London Ambulance Service celebrates Pride in London
In honour of our LGBTQ+ staff, volunteers, patients and local communities, London Ambulance Service (LAS) is gearing up to join the Pride in London parade this weekend, with 50 members of our team following an ambulance float, which, thanks to funding from the London Ambulance Charity, is specially decorated in the Progress Pride flag.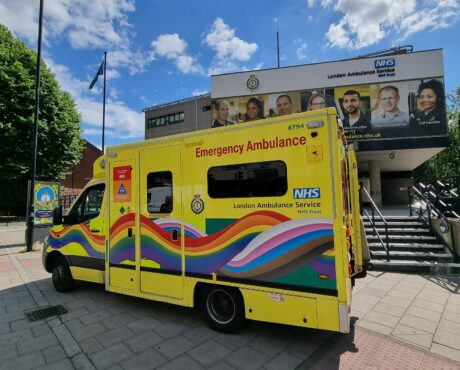 The parade follows the official unveiling of our new 'rainbow stairs' at the Service's Waterloo headquarters, with the six stripes of the Pride flag – red, orange, yellow, green, blue, and violet – lining the steps. 
Daniel Elkeles, Chief Executive for the LAS, who will be joining the start of the parade, said: 
"As a proud ally to members of the LGBTQ+ community, I am delighted to be joining staff and volunteers in the parade this weekend. I hope seeing members of our 'green family' marching alongside our customised ambulance will remind people that LAS is an inclusive and welcoming employer, where a person's gender identity or sexuality should never stand in the way of the their career development or the care we provide to our patients.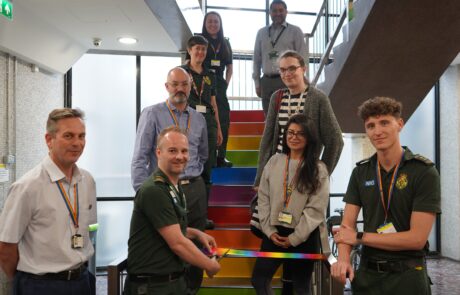 "While this is set to be a day of joy and celebration as we commemorate 50 years of Pride, it's important to recognise the challenges still faced by our LGBTQ+ colleagues and community, including the rising number of acts of discrimination and hate crime they experience. At LAS, we celebrate diversity with pride, and believe that there is no place for homophobia or transphobia in the city we serve."
Alex Ewings, LAS's Assistant Director of Operations for North Central London and LGBT+ Network Co-Chair, said:  
"I hope that our participation at Pride in London will represent all LAS staff and volunteers in some way, and provide an opportunity for personal reflection. 
"When I was starting my career, LAS was a welcoming and supportive place for me – my sexuality was never a barrier. I hope that the Service's public involvement this weekend will continue to inspire LAS staff to bring their authentic selves to work.  
"There is strength in diversity and by celebrating the contributions all our LGBT+ colleagues make to the lives of Londoners we can ensure that we meet the needs of the communities that our staff and volunteers serve every day. It's really important that all our patients, on the phone or on scene, know that they are represented by the people who are looking after them."  
As with any major event in the city, we have made plans for additional demand on our services and have worked with our emergency services and local authority partners to help ensure the parade is a success. However, Londoners can still play their part to ensure we get ambulances to those most in need. 
Darren Farmer, Director of Ambulance Services and Gold Commander for the Pride in London parade weekend, said: 
"I wish Londoners a very happy Pride. We want the celebrations to bring London together after a difficult two years. If you are attending the parade and are drinking alcohol, please be sensible – you wouldn't want your night ending in the back of an ambulance! 
"Please plan how you're going to get home and look out for your friends.
"It's also really important to drink plenty of water as it's going to be warm. Please also wear sunscreen."