Paramedic's passionate plea to cut road deaths
A paramedic is supporting a campaign to improve safety and reduce deaths on London roads after responding to a series of harrowing 999 calls.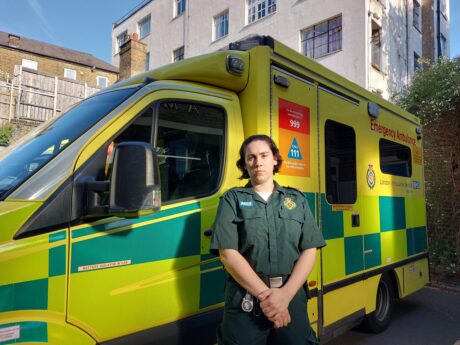 Natalie Jones has worked for London Ambulance Service for four years but still finds treating patients who have been injured in road collisions some of the toughest calls she goes to.
She said: "It's just heart-breaking for the families: lives can be lost or changed for ever in one moment. These patients really do stay with you because almost every road collision I've been to has been preventable.
"I think that's what makes them so tough – because you know they shouldn't have happened. Sadly it's often children who suffer catastrophic injuries, or the elderly."
Natalie is backing the Mayor of London's Vision Zero Week – a Transport for London campaign which runs from Monday 27 June to Sunday 3 July – which aims to highlight the scale of trauma on the capital's roads and is working towards eliminating all deaths and serious injuries by 2041.
The London-wide campaign has been inspired by Vision Zero, an international movement which sees cities around the world committing to end the toll of deaths and injury seen on their roads and transport networks.
In 2021, 75 people were tragically killed and around 3,500 seriously injured on London's roads, with the London Ambulance Service attending nearly 11,000 road traffic collisions that year.
In her free time Natalie volunteers for London Ambulance Service's public education team which delivers safety talks and workshops to young people warning them about the dangers on the road and offers advice on how to stay safe.
She said: "When I talk to kids I often tell them about a girl we went to who'd been badly injured on Oxford Street. She had stepped out onto the road between two buses, facing away from the traffic to get an iconic shot of the famous street.
"People don't want to put down their phones, but it's not worth dying or getting hurt for an "Insta" worthy shot.   
"Everyone should take responsibility for their own safety – and also those around them. Road users who can cause the most harm to others should be especially cautious when out on the road."
Stuart Reid, Head of Insights and Direction for Transport for London (TfL), said: "Every death on our roads is tragic and unacceptable and we refuse to accept that these incidents are inevitable.
"We must do everything we can to achieve our Vision Zero goal of eliminating death and serious injury from London's streets to prevent people in communities across the city from experiencing the unnecessary suffering that collisions on our roads cause.
"It is essential that reckless, selfish and illegal behaviour on our roads is challenged and everyone has a role to play in that.
"We would also like to thank London Ambulance Service and all emergency services and medical staff for the critical work they do responding to collisions on our roads."
You can find more about Vision Zero here.