Thank 'London Ambulance ChariTEA' with your own NHS Big Tea event
The London Ambulance Charity is inviting people and local communities across London to join the biggest NHS tea party yet by hosting their own fundraising NHS Big Tea on the health service's 74th birthday on Tuesday 5 July.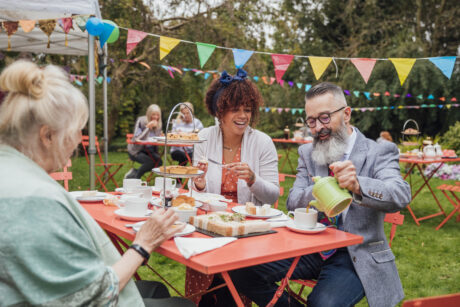 Led by NHS Charities Together, the NHS Big Tea brings the nation together to celebrate the birthday of our beloved health service, giving thanks to the NHS team of your choice, whilst raising funds to provide the extra support needed for staff, volunteers and patients. The NHS Big Tea is your chance to pay thanks to the London Ambulance Service's medics, 999 call handlers and other colleagues, and celebrate this milestone birthday by making time for tea – another national treasure!
Last year more than 4,800 hosts signed up, collectively raising over £500,000. In addition to individuals, schools, community groups and organisations, more than 150 NHS charities were involved, including the London Ambulance Charity.
Sally George, Head of Charity, London Ambulance Charity, said: "The NHS Big Tea gives us an opportunity to get together with friends, family or with colleagues, to take time out to have a conversation, and check in with how others are doing whilst raising funds to support our London Ambulance Charity.
"The funds you could raise at your very own NHS Big Tea event will make a very real difference to our staff, volunteers and services, and after a very difficult two years for our nation, this could be the perfect excuse to get together with friends while raising vital funds for a great cause."
Any supporters who sign up to host an NHS Big Tea Party to raise funds for the London Ambulance Charity will be in with a chance of winning a night's bed and breakfast for two at the Hampton by Hilton in Waterloo. Thomas Panickamuriyil, General Manager of the hotel said: "Hampton by Hilton London Waterloo is proud to support the London Ambulance Charity's NHS Big Tea fundraising campaign by donating a stay at our hotel, because we recognise and value the important work that's done each day by incredibly dedicated people."
All schools who register to host an NHS Big Tea before 20 June will be automatically entered into a free prize draw to win a visit from England footballer, Liverpool captain and NHS Charities Together Charity Champion Jordan Henderson MBE before he leaves to train for the upcoming Qatar World Cup.
Schools can register through the link below, and will need to select that they are hosting an NHS Big Tea at their school.
This year, NHS Charities Together hopes to make the event the biggest NHS Big Tea to date, with a collective fundraising target of over £775,000.
Funds donated to the London Ambulance Charity support a wide range of projects and initiatives, including  our wellbeing tea trucks, which visit our crews at hospital sites and, as well as offering a hot drink and a snack, gives them time to have a chat and download.
The London Ambulance Charity has also funded gardens at our ambulances stations, where staff and volunteers can enjoy a relaxing break after a difficult shift, as well as memorial benches to remember colleagues who have died.
Amanda Pritchard, NHS Chief Executive, said: "No one in the country has been untouched by the events of the last two years and NHS staff along with our wonderful volunteers, workers who kept our shops and public services running and those who kept schools and offices open across the country are no exception.
"The NHS Big Tea is an excellent opportunity for communities to come together and pay tribute to brilliant staff and volunteers, who have gone above and beyond during the pandemic to keep us and our loved ones safe.
"The effects of the pandemic are still being felt even as the NHS and the country now looks to recover and rebuild, so the continued support of local communities remains as vital as it is hugely appreciated."
Ellie Orton OBE, Chief Executive at NHS Charities Together, said: "The NHS can't face every challenge alone, and the network of NHS charities is proud to have funded hundreds of incredible projects supporting staff, patients and communities. By hosting tea parties and inviting your friends, colleagues or classmates, the NHS Big Tea allows us to come together and say an enormous thank you to our incredible NHS – especially after all they've been through these last two years, and the ongoing challenges they continue to face.
"So, whether at home, in the office or in school, we're asking the nation to pop the kettle on, grab the biscuits, and raise vital funds to help the NHS go further this July."
To sign up to host your own NHS Big Tea event and receive a fundraising support pack and be in with a chance of winning a night away for two in central London, or a visit to your school by England footballer, Jordan Henderson MBE, please visit www.nhsbigtea.co.uk/find?charityId=113664  
If you would like to find out more about the London Ambulance Charity, please visit: www.londonambulance.nhs.uk/charity.