Baby Evie saved as ambulance reaches hospital just 16 minutes after 999 call
A pregnant doctor with a rare and life-threatening condition who went into premature labour, has praised the London Ambulance Service medics who helped save her baby's life.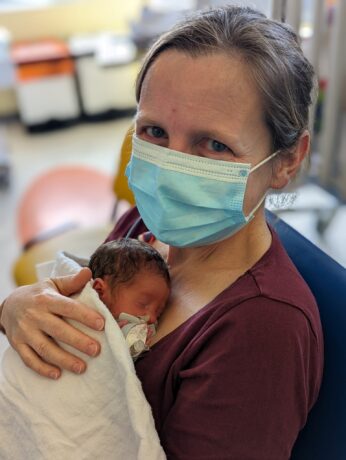 Dr Alice Ashby, a psychiatrist, admitted she had never been as terrified as when she started bleeding when she was just 30 weeks into her pregnancy.
She had already been diagnosed with vasa praevia, a rare but serious health condition. It causes blood vessels to tear during birth and has serious consequences for the mother and her baby.
Alice said: "I called 999 and described what was happening, and told them about my condition. As soon as the call handler realised how dangerous the situation was, everything happened so quickly. An ambulance car and an ambulance arrived within minutes.
"I've never seen anything as impressive as the response, skill and compassion of the ambulance crew."
Thanks to the speed of the ambulance crew, call handler Chesie Piner, and ambulance dispatcher Valerie Murphy, Alice reached hospital just 16 minutes after she made the emergency 999 call.
Paramedic Paddy Wright said: "As we arrived we were met by a clearly distressed and scared mum-to-be.
"After listening to her, and learning how serious her condition was, we knew we had to act quickly but safely.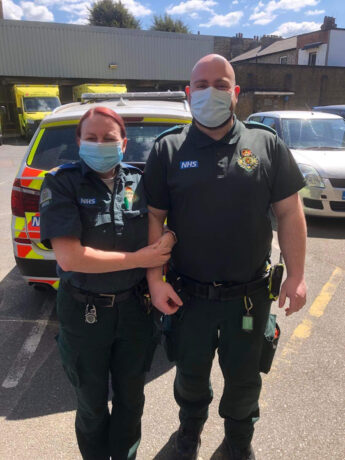 "It was also important that we provided emotional support to the patient, remaining calm and reassuring throughout."
Emergency ambulance crew Rachel Spaulding held Alice's hand the entire time she was caring for Alice – right up until they took her into theatre at King's College Hospital in Camberwell.
Alice said: "She sat with me, reassuring me, and it was so impressive because while caring for me the crew were also communicating with the hospital so a team was ready for me when we arrived."
On 4 April, Alice gave birth to daughter Evie, who, at more than two months' early, weighed just 1.72kg, which is less than 4 lbs.
Evie was able to come home this week after spending six weeks being cared for on the Neonatal Intensive Care Unit at King's College Hospital.
Rachel said: "I'm glad to hear that it all went well and so pleased that Evie and her mum are doing well.
"I couldn't have asked for a better crew mate, we didn't have to second guess each other – we just did everything we could for this patient who was scared and needed our help."
Dr Fenella Wrigley, Chief Medical Officer of London Ambulance Service, said: "Getting feedback from our patients is always lovely and the recognition and thanks is very well deserved.
"Everyone involved in Alice's care listened to her concerns and while assessing and treating her with care and compassion. They recognised the urgency of the situation, communicated well and prioritised an extremely fast transfer.
"We wish all the best to Alice, Evie and their family."
London Ambulance Service is hiring call handlers, paramedics and associate ambulance practitioners. You can find out how to apply here.