Volunteer emergency responders celebrated at special awards
The dedication and hard work of trained volunteers who respond to emergencies alongside London Ambulance Service staff was recognised at a special event on Friday evening.
The ceremony recognised 20 volunteer emergency responders (ERs) who have completed five or ten years with our Service and was a celebration of a combined service of over 130 years.
Our ERs, who gifted more than 30,400 hours of their time during 2021, respond alongside our paid staff to the most serious life-threatening 999 calls. Our ERs receive significant training, drive on blue-lights and wear Service uniform.
17 ERs received a five years' service award, whilst three marked ten years. In addition, Benji Watkins was presented with the Chief Executive's Award for his outstanding contribution to the Service and Shad Aziz received the Debbie Baldwin Inspirational Volunteer Award.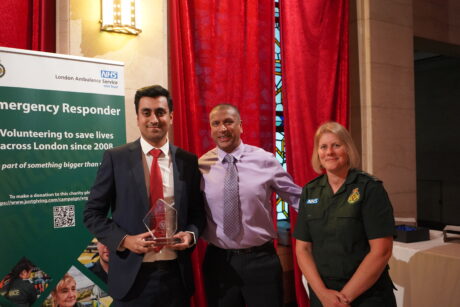 Debbie Baldwin was an ER with the Service who sadly died of ovarian cancer in 2021. The award has been establish to celebrate Debbie's life and inspirational contribution as a volunteer, and was presented by her husband, Pravin.
Receiving the award Shad, an ER for more than eight years in addition to his day job as an Emergency Physician at Whittington hospital, said:
"One of the greatest privileges in my career is being an ER. It is a genuine honour to serve the people of London, to work with hardworking and passionate people and to learn from Ambulance clinicians."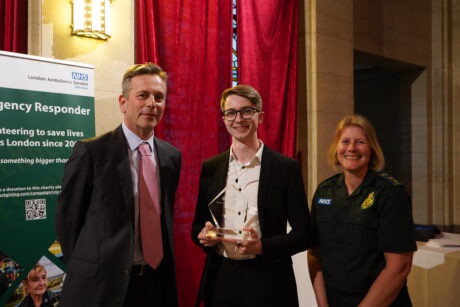 Meanwhile, Benji, currently doing a degree in pre-hospital medicine at Barts hospitals dedicated his award to his colleagues. He said:
"I'm very grateful to receive this award, it's an absolute privilege. However, it's as much a testament to everybody that's worked with me on the ER scheme because without them I wouldn't be who I was today.
"They've guided me and will make me a much better doctor as a result so this is an award for everyone in the scheme, and not just myself."
A number of famous faces added their weight to the inaugural awards, sharing video messages which were played on the night. This included TV stars Claudia Winkleman and Richard Madeley, as well as Health Minister, Edward Argar MP.
Daniel Elkeles, Chief Executive said:
"Volunteers have supported our Service for more than a decade, and I am delighted that we were able to celebrate their achievements and recognise the long service milestones of so many of our emergency responders at this prestigious event.
"It has been an incredibly challenging couple of years for the Service and the wider NHS, and our volunteers have played a vital role in helping us to respond to our patients in their time of need. London and Londoners owe our volunteers a massive debt of gratitude."
Antony Tiernan, who is Director of Communications and oversees the work of our volunteer team, said:
"Our emergency responder scheme is unique to the London Ambulance Service, with our volunteers coming from a wide array of backgrounds. Each year, our volunteers save countless lives by being first on scene to the most serious of accidents, as well as cardiac arrests, heart attacks and strokes.
"We thank them for all they do to support our work, in particular for the hundreds of extra hours they gifted to the Service as we responded to the challenge of the global COVID-19 pandemic."
The volunteers marking five years are Benn Pollard; David Hobday; Debbie Batchelor; Donald Howden; Fabio Tramontano; Gary Madden; Helen Wigley; Ian Burgess; Ivan Pereira; Luis Sellmeyer; Peter Shilton; Shad Aziz; Simon Goodwin; Simon Ramm; Stratton Richey; Terry Beckham; and Tyler Skerton.
The volunteers marking ten years are Clinton Beale; Deborah Jeffery; and Richard Sargeant.
The event was made possible thanks to funding from the London Ambulance Charity and support from the Freemasons, Grand Lodge Freemasons, William Grant & Sons, 5.11 Tactical International and NHS Charities Together.
More information about volunteering at the London Ambulance Service can be found on our website here.