Cardiac arrest survivor meets 999 call handler who talked his partner through CPR
A man who survived a cardiac arrest thanks to the quick thinking of his partner and "crystal clear" instructions from a 999 call handler, was able to say thank you in person at an emotional reunion at London Ambulance headquarters earlier this week.
When Brian Livesey, 70, fell ill at home in Hampton Hill in August 2020, his wife Sally dialled 999 and was quickly put through to London Ambulance Service (LAS) call handler Callum Gillies. After describing Brian's condition, it was clear to Callum that Brian was in cardiac arrest and urgently needed chest compressions (also known as CPR, which stands for cardiopulmonary resuscitation) to get his heart pumping blood around the body again.
Callum guided Sally through performing CPR and stayed on the line with Sally until LAS crews arrived to take over, and reassured and supported her throughout this distressing situation.
Brian was rushed to hospital where he underwent surgery, and has since made a full recovery.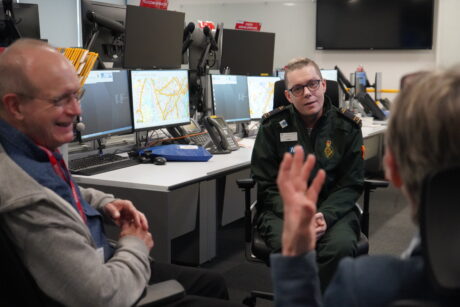 The couple, who are back to doing the things they enjoy like walking in the countryside, got married a year on from the cardiac arrest, after Brian popped the question when he returned home from hospital.
Ever since the cardiac arrest Brian and Sally have wanted to meet Callum to say thank you, but unfortunately, due to COVID-19 restrictions, have been unable to do so – until now.
Speaking about the moment he met Callum at Waterloo headquarters, Brian said: "I've been dreaming of this moment – I'm so delighted to meet Callum, give him a hug and thank him for helping to save my life.
"Without Callum, I wouldn't have been at my grandchildren's birthdays, I wouldn't have married Sally, and I wouldn't be here today."
There may be no warning when someone goes into cardiac arrest. Sally describes Brian as seeming completely normal before making a strange sound then stopping breathing.
"Luckily I had a phone by the bed, and I called 999," Sally said. "I was asked some questions very quickly about Brian's state. Callum was amazing, and his instructions were crystal clear.
"I felt very clear-headed, for some reason. I followed Callum's instructions, got Brian on the floor, and then was told where to put my hands and perform CPR.
"Callum kept me updated – he was telling me where the crews were, saying they were at end of the road, they are at the house, they are at front door.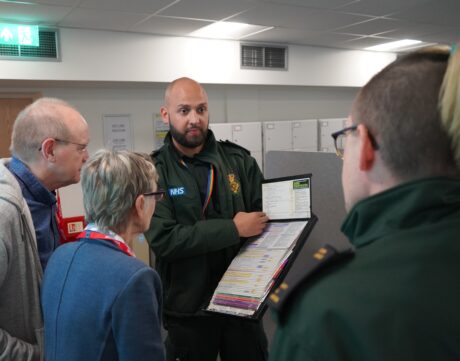 "I was given lots of encouragement, but I felt very relieved when the first team arrived and took over. It was very, very scary. I didn't know if I would ever see Brian again."
Callum remembers the 999 call very clearly, and was delighted to hear that Brian had made a full recovery and that he and Sally had been in touch.
He said: "Seeing Brian in person, fit and well, is the best feeling ever. It means the world to me.
"When I spoke to Sally on the 999 call, she was extremely calm and clear, which meant that we were able to get the details and start CPR within 30 seconds. I know how difficult it can be, but it's so important for callers to try to stay calm so that we can help them as effectively as possible."
Daniel Elkeles, London Ambulance Service's Chief Executive, met Brian, Sally and Callum at the reunion. He said: "I'm so proud of Callum and all the wonderful, dedicated staff and volunteers we have working here at London Ambulance Service.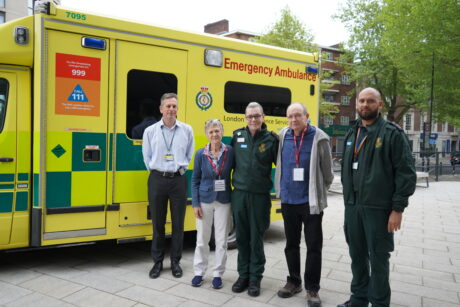 "Hearing Brian and Sally's story was really moving, and I was delighted to hear Brian has made a full recovery. It just goes to show how important CPR is, and I'm really pleased Team LAS was there during Brian's hour of need."
In a cardiac arrest, every second counts and without lifesaving intervention – often from passers-by – the chances of survival decrease by about 10% with every passing minute.
Calling 999 immediately, starting chest compressions and using a defibrillator can vastly increase the chance of survival. There are more than 6,500 defibrillators across London.