Father of London Ambulance Service patient donates portable ultrasound machines
A father whose son died suddenly at the age of just 21 has donated equipment to help medics treat patients whose hearts have stopped beating.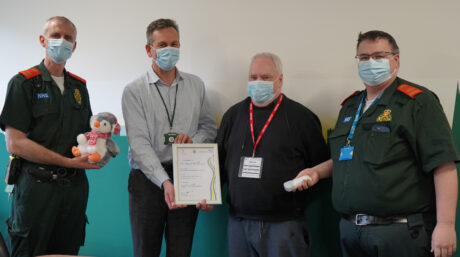 David Williamson was inspired to fundraise for London Ambulance Service (LAS) in memory of his son Kyle who passed away from Sudden Adult Death Syndrome (SADS) two years ago, while expecting his first baby. SADS is where someone dies suddenly and unexpectedly from a cardiac arrest and a cause is often not identified.
Through raffles, jumble sales, sponsored walks and even a climb of the O2 Arena, David raised £8,000 and recently visited the LAS headquarters to donate two pocket-sized ultrasound machines to the Service.
The lightweight Vscan machines will be used by Advanced Paramedic Practitioners in Critical Care working in the capital. These are LAS paramedics who undergo further training and carry additional medicines and equipment to care for patients. Ultrasound in pre-hospital care has a range of uses including helping medics 'see' the heart to determine what might have caused it to stop beating, assess how the heart is beating, as well as helping guide the  insertion of cannulas (thin plastic tubes) that deliver medicines into a person's veins.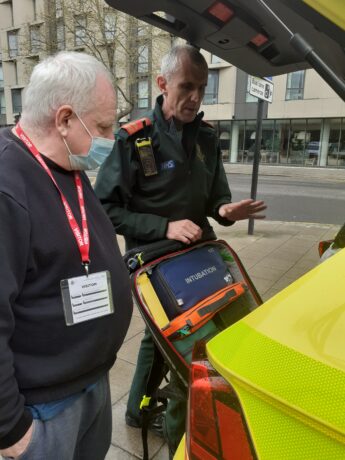 David said:
"When Kyle died, I decided I wanted to raise money to give back to the
"I know that it can be difficult for paramedics to cannulate patients at the scene, particularly the elderly, so I hope that these machines can be used to make that process easier or help people like my son. NHS. I myself have a history of heart attacks and cardiac issues, and I wanted to honour the service that has helped me so much.
"Kyle was a very giving person, he would have liked to see that I'm finding ways to give back to the service that helped us both."
LAS Chief Executive, Daniel Elkeles said:
"We'd like to wholeheartedly thank David for his generous donation in memory of Kyle, and all those who have supported his fundraising.
"David's determination and generosity is greatly appreciated by all of us. We will put these machines to good use, continuing to ensure that patients receive quick and efficient assessment and treatment."
If you would like to donate to the London Ambulance Charity, or would like to take on a challenge to raise vital funds for the Service, please visit: www.londonambulance.nhs.uk/charity.