We donate refurbished ambulances to help people of Ukraine
A team of volunteers from London Ambulance Service (LAS) set off for Poland today (Monday) driving 10 reconditioned ambulances, filled with medical supplies, which will be donated to a charity helping to bolster humanitarian efforts in Ukraine.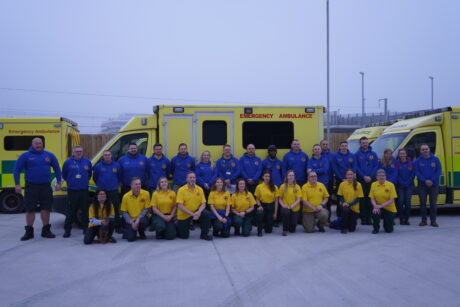 Shortly after 7am, the team of 26 LAS volunteers set off from a foggy industrial estate in Rainham to drive more than 1,100 miles over three days to Przemysl, Poland, where ambulances will be handed over to the Medical Aid Ukraine charity.
The 10 vehicles are former LAS ambulances which had been decommissioned from use in London, but have now been rapidly refurbished by the Service's fleet team to make them suitable to donate to Ukraine.
The ambulances are filled with donated medical equipment from LAS and a number of other NHS bodies and organisations in London, including ventilators, syringe pumps, tourniquets, wound dressings, blizzard blankets and personal protective equipment (PPE).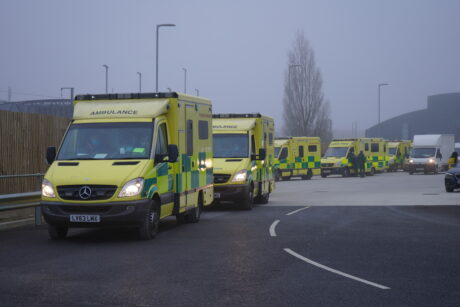 The convoy was waved off by London Ambulance Service's Chief Executive Daniel Elkeles, who thanked the staff for volunteering and wished them a safe journey.
He said:
"Staff and volunteers from across the London Ambulance Service have been moved by the scenes of terrible suffering in Ukraine over the past few weeks.
"Our thoughts are with the Ukrainian people and our colleagues in the Ukrainian emergency services who are caring for their fellow citizens injured in very difficult and distressing circumstances.
"I would like to pay tribute to our staff who have helped us to restore the vehicles, source donations and pack the ambulances, as well as volunteering to drive them across the continent. This is testament to the commitment our staff and volunteers show in caring for those in need. I am truly proud of the teams involved, and that London Ambulance Service has been able to make this donation to the people of Ukraine."
When the convoy of 10 ambulances and two support vehicles arrives in Przemysl on Wednesday, the ambulances and supplies will be received by the Polish Ambulance Service. The Ukraine Ambulance Service will then collect the ambulances with Medical Aid Ukraine volunteers and drive them to Ukraine.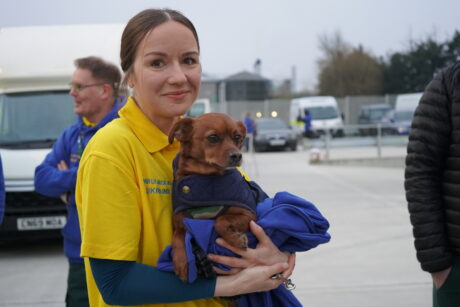 Eva Bartoskova, senior sector clinical lead at LAS, has been instrumental in organising the mission and is one of the volunteers driving the convoy of ambulances and supplies across to Poland. Speaking ahead of the journey, Eva said:
"I was inspired by my family's act of kindness in offering their home to Ukrainian refugees in the Czech Republic over the past few weeks.
"Being so far away in London, I wanted to still find a way to make a difference, no matter how small, to help the people of Ukraine during these incredibly difficult times."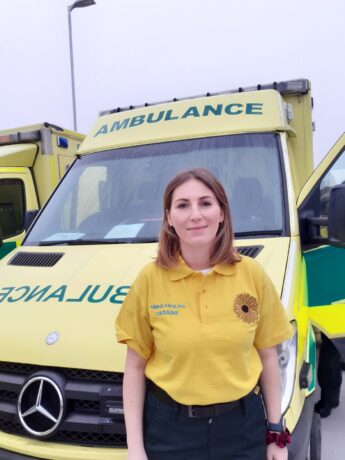 Paramedic Erica Greene's thoughts were with colleagues in Ukraine's ambulance service.
"When something bad happens ambulance services are the ones who respond. I cannot imagine what it is like for them at the moment."
The war has become even more real for Erica through her correspondence with a 25-year-old Ukrainian from Lviv called Viktoria whose visa application Erica is sponsoring.
"She is sending me videos of bombing. She must be so scared at the thought of having to come to another country. She knows where I am going to be and we hope she can meet up with me in Poland," she added.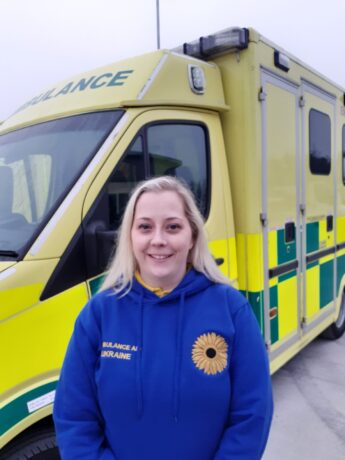 Operational Duty Manager Charlotte Coutts and spent much of yesterday's Mother's Day reflecting on the situation in Ukraine ahead of today's departure.
"It's horrific what we are seeing. As a mother of four children I would not wish any child to go through that and cuddled them particularly hard yesterday. I will miss them so much but I knew I had to do something to help and they are very supportive."