Minute's silence marks health workforce sacrifices on pandemic anniversary
Staff from London Ambulance Service joined a minute's silence today (Friday) to mark the second anniversary of the World Health Organization (WHO) declaring Covid-19 a global pandemic.
A remembrance service, organised by NHS Charities Together, included a minute's silence at 11am to reflect on the sacrifices of health and social care staff during this time and wider ongoing loss being felt across the world.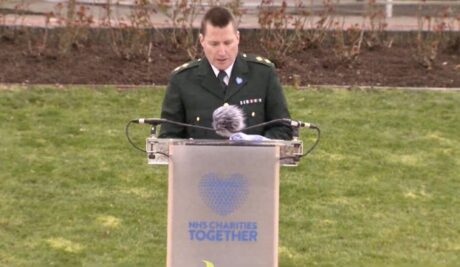 London Ambulance's Director of Ambulance Operations Darren Farmer and Clinical Team Manager Jason Morris joined NHS staff representing all four nations at the small event at the National Memorial Arboretum, Staffordshire.
Darren Farmer, London Ambulance Service's Director of Ambulance Operations, said:
"We are so proud of the courage and dedication that everyone working for London Ambulance Service and the health and care sectors has shown over the past two years, but the virus has taken a huge toll on the country.
"Today, we also remember and honour all those colleagues who were among those who sadly died during this pandemic. I hope their service to London will never be forgotten."
During the service, individuals from the frontline shared personal poems, testimonies and experiences of the last two years. Ten blue heart wreaths were laid to represent different parts of the workforce, patients, and wider global losses and sacrifice.
Jason, who delivered a moving testimony at the service, said:
"It has been an extraordinary two years and it's tough to do justice to what we have been through. The commitment and sense of duty from my colleagues never wavered, but tragically some paid the ultimate price and many of us have lost much-loved colleagues and friends across the service.
"It was a privilege for me to represent all my colleagues who died in service during Covid-19, and all the incredible sacrifices that have been made during this time. The emotional impact on staff is ongoing, but I am proud of the way we all came together and glad we can take a moment to reflect on what we've been through today."
The live-broadcast event was joined by hundreds of NHS colleagues across the UK and featured performances from Birmingham Women and Children's Hospital Choir and opera singer tenor Rhys Meirion.
Since the pandemic began, many NHS staff have tragically lost their lives to Covid-19, with a new YouGov survey of over 1,000 NHS staff showing almost one in four (24%) have directly lost colleagues because of Covid-19 – including those they have worked with closely.