Paramedics take on 31 mile 'Outrun an ambulance' fundraising run
Two tireless paramedics from London Ambulance Service (LAS) swapped their kit bags for running shoes on Wednesday (23 February), setting off on a 31-mile fundraising dash to 'outrun' the average distance covered by a London ambulance during a 12 hour shift.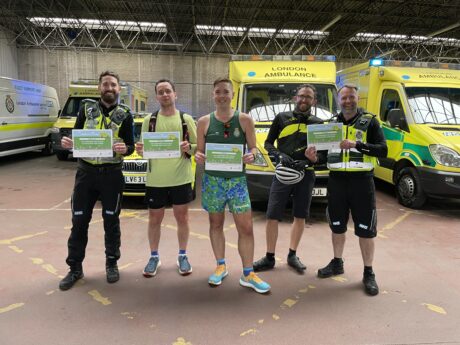 Tim Rouen and Thomas Tubridy, both paramedics based at Camden Ambulance Station, took on the 'Outrun an Ambulance' challenge to raise vital funds for the London Ambulance Charity.
As a nod to colleagues working across the capital, the duo plotted a route that passed 11 London Ambulance Service stations.
Tim and Tom were joined by two Cycle Response Unit (CRU) riders (the paramedics who use pedal power to attend emergencies, with all of their medical supplies and equipment packed into panniers) Tim Stephens and Ben Forde, who completed the challenge on two wheels.
Also at the start line was LAS Chief Executive Daniel Elkeles, who ran the first two miles with Tim and Tom – and also with Daren Mochrie who is the Chair of the Association of Ambulance Chief Executives and North West Ambulance Service's Chief Executive.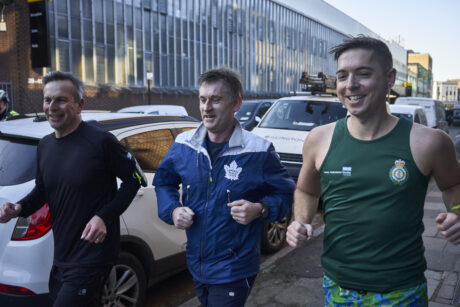 Participants of the Outrun an Ambulance challenge have the choice of running, cycling or swimming to cover the distance an ambulance completes on an average shift.
This is 50 kilometre/31 miles for London ambulances and they can spread their activity over a period of time, but Tim and Tom (also known as Team Tango Tango 50) chose to complete it in one go – meaning they ran further than a marathon in just one day!
Chief Executive Daniel Elkeles said: "It was an honour to join Team Tango Tango 50 as they crossed the start line. As busy paramedics, Tim and Tom work incredibly hard all year round, so to give up a day of annual leave to run an ultra-distance around the city they serve is just inspirational.
"I would also like to say a huge well done to our Cycle Response Unit paramedics Tim and Ben, who also cycled the 31 mile distance despite spending most days in the saddle!
"The Outrun an Ambulance Challenge is designed to be a fun challenge that can be tailored to what level of test you want to take on – whether you would like to walk a mile a day or roller skate the distance in a fortnight, we welcome all participants! And every penny raised makes a difference to the ambulance service, our staff and volunteers.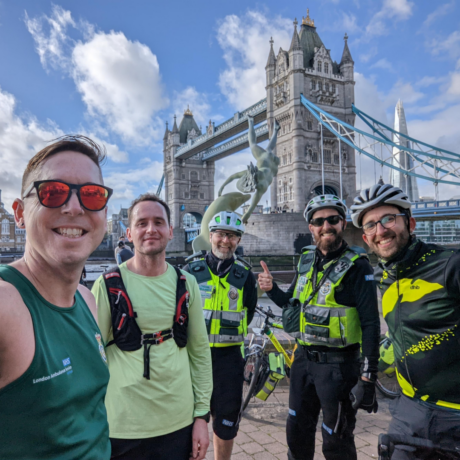 "I would like to say thank you to everyone who has taken part so far, and to those who are about to sign up. Thank you."
For those who are able to, it's not too late to sponsor Team Tango Tango 50 – visit their fundraising page here: https://www.justgiving.com/team/TT50.
The Outrun an Ambulance challenge is a shared initiative with other NHS ambulance charities.
Simply visit www.outrunanambulance.co.uk for more information, and choose from the participating regions to take part.
More Outrun an Ambulance challenges: