London Ambulance Service backs new heart attack facts campaign
London Ambulance Service is proud to support a new life-saving campaign that aims to raise awareness of the symptoms of a heart attack and encourages people to dial 999 if they spot those early signs.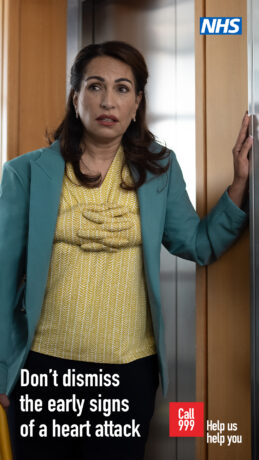 The new advert – which features two emergency call handlers and ambulance dispatchers from the London Ambulance Service – hits screens, radios and social media channels from today (Monday 14 February), helping to remind people of the common early symptoms of a heart attack, including sweating, uneasiness and chest tightness.
Chief Paramedic and Quality Officer, Dr John Martin, said: "We are really proud to support this vital new campaign from the NHS. Every minute counts if you're having a heart attack – it's a medical emergency, and immediate treatment could be the difference between life and death.
"It can be easy to dismiss early symptoms of a suspected heart attack, but I would encourage anyone to make sure you would recognise the signs, and if you experience them, don't think twice about calling 999.
"The NHS and our emergency services are there for everyone, and one quick call could save your life."
Chief Medical Officer, Dr Fenella Wrigley, said: "Please remember, the London Ambulance Service is here for you. Our amazing staff and volunteers are the people to help should you find yourself in an emergency situation, such as having a heart attack.
"If you experience the early signs of a heart attack, please call 999 and you'll be in the expert care of our emergency call handlers and ambulance dispatchers, who will help you get the care and treatment you need.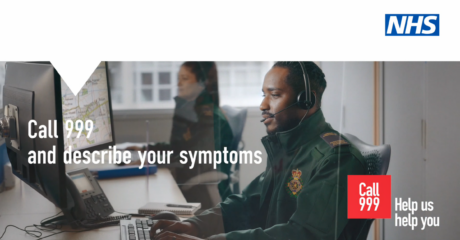 "LAS is very proud to be taking part in this campaign with Webster Ralph and Hannah Jones, two LAS 999 call handlers, featuring in the advert. You will see them calmly and professionally taking calls from patients in need, providing assistance and arranging the emergency care they require."
A heart attack occurs when the supply of blood to the heart becomes blocked, which can starve it of oxygen potentially causing serious muscle damage.
Whilst the early signs of a heart attack can vary, the most common include squeezing across the chest, sweating and a sense that something just isn't right.
The person will be conscious and breathing. The symptoms to look out for are:
• Sweatiness
• A sense of unease
• Chest pain – a sensation of pressure, heaviness, tightness or squeezing across the chest
• Pain in other parts of the body – it can feel as if the pain is spreading from your chest to your arms (usually the left arm is affected, but it can affect both arms), jaw, neck, back and tummy (abdomen)
• Feeling lightheaded or dizzy.
There are more than 80,000 hospital heart attack admissions in England every year. The overall survival rate for people experiencing a heart attack is seven in 10 and this increases to nine in 10 for those who come forward for early treatment.