Make Ready, steady, go! £14.2 million investment into vital service
London Ambulance Service has announced a £14.2 million investment in its Make Ready service – the team of staff who work around the clock to re-stock, re-fuel and deep clean ambulances at the end of a busy shift – in a move that will improve pay and benefits for these vital staff members and allow for significant investment in new equipment and technology.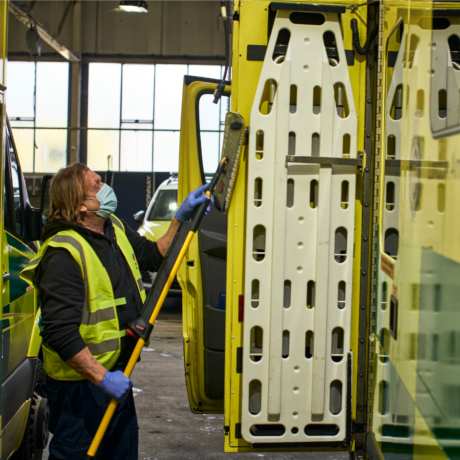 Starting on the 1 April 2022, the Make Ready teams who work across the capital to get the ambulance fleet ready and stationed in the right places for the next shift will become NHS employees for the Service, as the current contracts (which were held by providers MITIE and Churchill Group) come to a planned end.
The move will bring 400 members into the NHS family, with an average hourly pay increase of 8% for most of these teams in line with the London Living Wage and providing access to other NHS benefits such as the generous pension scheme. It will also bring these colleagues into one team, allowing for even stronger team working, better support for the individuals, and allowing us to bolster the number of people working in the team.
Chief Executive Daniel Elkeles said: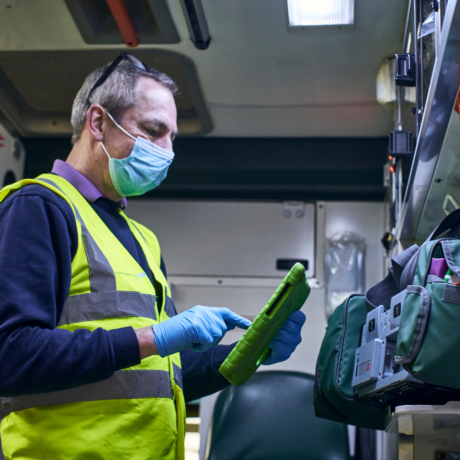 "Our Make Ready teams are a vital cog in the London Ambulance Service machine – they work from 15 stations across London, preparing our ambulances and re-stocking supplies ahead of the next busy day we face.
"Although they are a 24/7 service, most of the work they do happens at night time – so when a crew finishes a 12 hour shift and returns their vehicle back to base, our Make Ready teams work through the small hours to get every ambulance ship-shape and ready for the next shift.
"As the current contracts come to an end, we've looked at what's best for the staff, our patients and the organisation, and what provides best value for taxpayer's money. Having fully assessed our options, and with the support of our Trust Board, we look forward to the Make Ready teams joining our the Strategic Assets and Property team.
"We would like to thank Mitie and Churchill Group for the support and service to this point.
"It's our aim to build a world-class ambulance service for a world-class city, and we can only do that if we recognise the talent and commitment of our staff, and treat our different teams equitably. This is the right time to welcome these teams back to the NHS family, with all of the benefits that brings."
The £14.2 million investment, which will be divided into a multi-million pound cash injection every year for the next five years, will also allow for significant investment into the fleet of support vehicles the team use, and improvements to the equipment, technology and software that the team rely on.
While the staggered investment means that the Service has ring-fenced money for further staff benefits over coming years (such as fully transitioning to Agenda for Change in year three – the official NHS grading and pay system for NHS staff), it will also allow for investment in recruiting staff and keeping up-to-date with new technologies.
Eddie Brand, Branch Secretary, UNISON, London Ambulance Service and Staffside Secretary, said:
"This is great news. UNISON have a proud history of fighting to get public services back in house. We believe that services are best provided in-house in order to ensure value for money, accountability and the flexibility to respond to changing needs and priorities.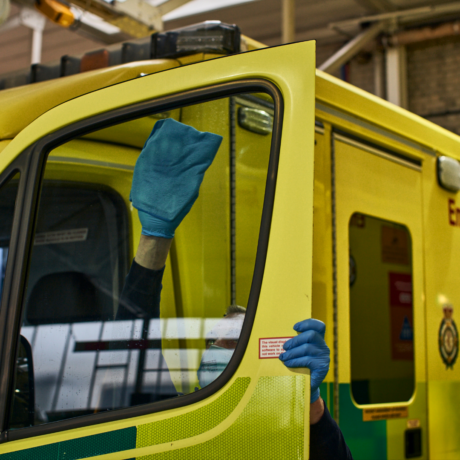 "Bringing services back in-house will benefit not only hard-working staff in the Health sector but all those who rely on the vital services they provide. LAS UNISON will continue to work with our Service and will continue to welcome the staff into our Branch, the largest Ambulance Branch in the Country."
Clive Tombs, Branch Secretary, GMB, London Ambulance Service, said:
"After campaigning for the in-sourcing of the Make Ready team, GMB welcomes the Chief Executive and Board's decision to do this. This is excellent news and will see the make ready staff on better terms and conditions with a better work life balance.
"GMB welcomes this decision and hopes other ambulance trusts do the same. GMB welcomes all make ready staff into the LAS family."
LAS ambulance stations from which Make Ready teams will operate:
Hillingdon
Brent
Isleworth
Fulham
Wimbledon
St Helier
Deptford
Bromley
Barnehurst
Silvertown
West Ham
Ilford
Edmonton
Camden
Friern Barnet