Cardiac arrest survivor meets Team LAS medics that saved his life
"We should get married" were the first words Paul Smith said to his partner of 10 years, Sahika, when he woke up in hospital following a cardiac arrest.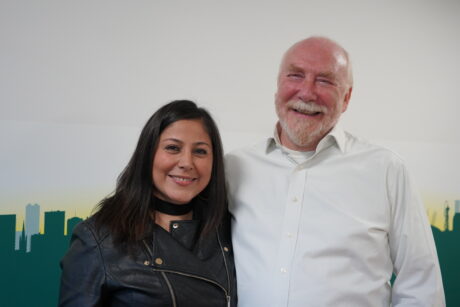 Now, as they celebrate their second wedding anniversary, the couple have met and thanked the London Ambulance Service crews who saved Paul's life.
As well as being able to thank the medics in person, Paul was able to ask them some questions as he has no memory of his cardiac arrest – or the hours leading up to it and the days following.
He was also able to tell them about the things that they had made possible, including his wedding to Sahika, and another important life event – welcoming the birth of his first grandchild, Arlen, in the summer.
"I would never have got to see my grandson without the team at London Ambulance Service. Nor, of course, would I have got married," said Paul, who has now made a full recovery.
"To say thank you does not seem adequate, and I can't express my gratitude and admiration enough."
On the evening of the cardiac arrest in February 2019, Paul went to dinner in Borough Market with a close friend. While he does not recall any of this, he reported having indigestion and made his way home.
Travelling back, and feeling unwell, he rang Sahika and asked her to meet him. She rang 999 while they made their way back to their home in Deptford and told the call handler that Paul was experiencing chest pains. An ambulance crew was sent.
While the crew were assessing Paul, who had had a suspected heart attack, he collapsed right in front of them. He had gone into cardiac arrest.
"The team from London Ambulance Service immediately took action," said Paul.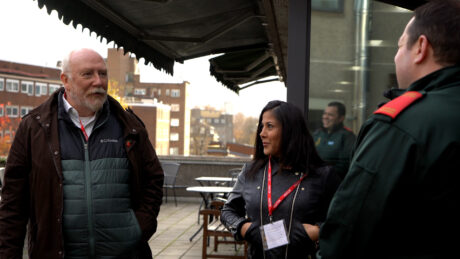 "They were able to start CPR right away. I was lucky that so many things came together – the fact London Ambulance Service were already there, that they acted so quickly. But also, that Sahika realised something was wrong and called 999 in the first place.
"It's so important for people to recognise symptoms of a heart attack and cardiac arrest, as time is so critical."
A heart attack happens when an artery becomes obstructed, restricting the flow of blood to the heart. The most common sign of a heart attack is chest pain, though there are other symptoms. Left untreated it can lead to a cardiac arrest.
A cardiac arrest is a serious medical emergency when someone's heart stops beating. More than 10,000 people in London suffer a cardiac arrest every year. When this happens, every second counts and the key to survival is early chest compressions and early defibrillation.
Without lifesaving intervention the chances of survival decrease by about 10% with every passing minute.
If you suspect someone is having a heart attack or cardiac arrest, you should ring 999 immediately – just like Sahika did.
After being taken to hospital, Paul was in a coma for three days, waking up the day before his 61st birthday. He later underwent a procedure to have a stent fitted and made a full recovery.
But Paul often wondered about the London Ambulance Service medics that attended that day and saved his life.
Often, when he saw a London Ambulance Service medic out in public, he would buy them a coffee to say thank you for everything they do for people like him.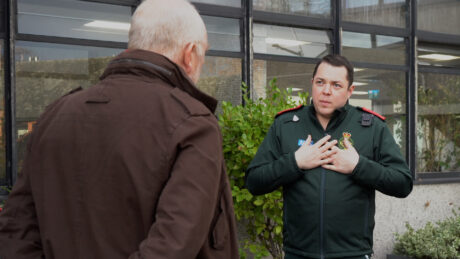 One day, while doing so, he got speaking to an ambulance crew and told them his story. Moved, they agreed to pass his details on in a bid to try to reunite him with those who saved his life.
That is how, nearly three years later, he finally met advanced paramedic Nick, paramedic Gordon, and another paramedic who was first on the scene in an emotional reunion.
"It really was brilliant meeting them, and very humbling," said Paul. "It doesn't seem like enough, but I would like to say thank you to them and to everyone at London Ambulance Service, not just for how they helped me, but for everything they do."
The occasion was also one to remember for the London Ambulance Service medics who met Paul. Advanced Paramedic Nick found it an emotional experience.
"It was an absolute pleasure to meet Paul and Sahika and to see how well they are both doing," he said.
"It takes a team to save a life: from vehicle technicians ensuring we have working vehicles, and procurement ensuring we have the right kit, to call handlers, dispatchers and paramedics. As an Advanced Paramedic, I was only one part of that team, and I am just pleased we were all able to help when Paul needed us."