2021 was a milestone year for many of Team LAS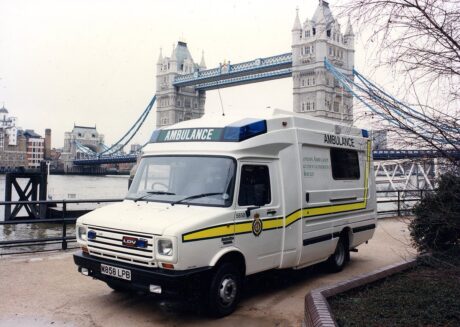 In 1986 we had four TV channels, it was the era of big hair and legwarmers and you could buy a packet of Bird's Angel Delight for 16.5p.
It was also the year that an incredible bunch of people joined us at London Ambulance Service (LAS) and have worked here, caring for Londoners, ever since.
Back in the 80s, our ambulances were white, the uniforms were blue and the equipment was basic.
But around 45 dedicated members of staff have witnessed some incredible changes as they celebrate 35 years of service this year.
Despite clocking up more than 1,500 years of service between them, no amount of experience could prepare them for the global health crisis that hit us in 2020. Before the pandemic, we would get 5,500 calls on a busy day. In the last year, we have been getting more than 8,000 emergency calls on some days – the busiest in our history.
Chief Executive Daniel Elkeles said: "I'm so proud of the service these exceptional people have achieved. Their experience is invaluable to me, to their colleagues and to our patients. It is this level of dedication and commitment that makes London Ambulance Service the organisation it is."
Some of those colleagues share their memories from the last 35 years below.
Steve Redburn, 56, paramedic: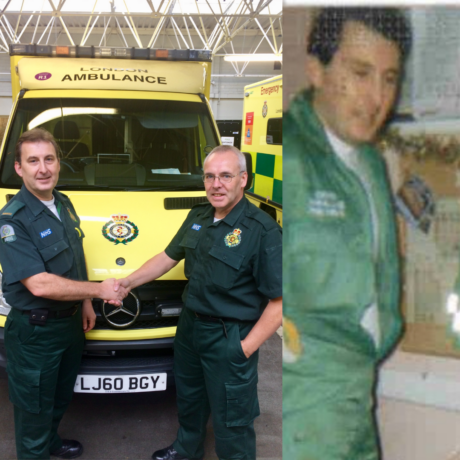 "I was working near the Service's HQ and became inspired after seeing the ambulances coming and going. I had some reservations because I become a bit faint if I lose any blood, so wasn't sure how I would react to seeing someone else's – but I've got over that now!
"I've worked with the same crewmate for 32 years which has made life a breeze even though we have attended many challenging incidents: the Clapham rail disaster, the Baltic exchange bombing and the Brixton riots amongst others.
"We've delivered over 55 babies over the years including twins! I was once chased out of a garden in Tulse Hill by a pet iguana and escaped a house full of snakes.
"The biggest change is how busy we are – you do feel the pressure but I can say I've enjoyed myself and made life-long friends."
Kay Robson, 53, senior office and resource administrator: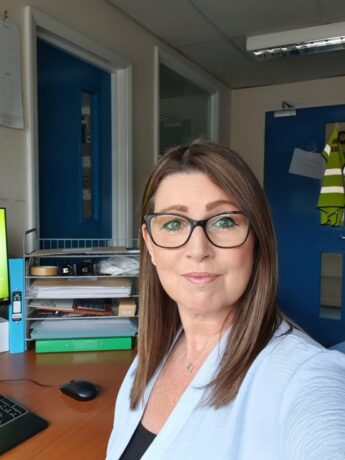 "I left school at 16 and got a job at the Royal Marsden Hospital in Sutton, I then transferred to the Fulham Road branch and after meeting and speaking to LAS staff on a daily basis, I decided to apply for a position. I started in the South West control room, called orange base, at New Malden as a Control Assistant when I was 18. This was when the uniform was air force blue and I remember going to Burtons to get measured for it.
"Back then everything was done on paper and the crews received their daily work on a print-out via a telex machine.  I was working in patient transport which involved getting patients to their appointments, admissions and discharges and conveying patients to hospices.
"This was a time where some ambulances would convey nine patients at a time so we had to plan a route ensuring they got to their appointment on time.
"I then became the Divisional Administrator for the Assistant Chief Ambulance Officer for the South West area then later was seconded into the position of Site Manager looking after the Royal Marsden Hospitals.
"There weren't many women working in the service when I started and definitely not many women in charge.
"Now my job consists mainly of the scheduling of Non-Emergency Crews and Critical Care Staff and during the start of the pandemic, I was involved in helping the scheduling of the staff for the Nightingale Hospital. Whatever changes may happen in the future, it's always been a lovely place to work."
Tom Patmore, paramedic: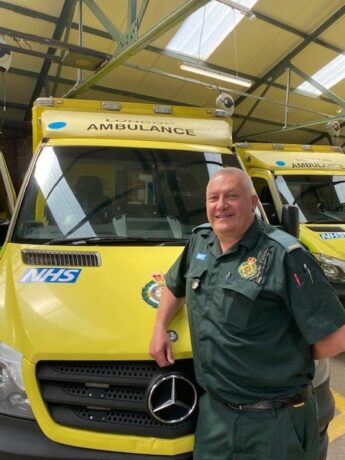 "Before I started working for the ambulance service, I did all sorts of jobs. I did anything that paid the bills but while working as a hospital porter and chatting to ambulance crews, I realised I wanted to give it a go and I loved it.
"The first emergency call I went on was when Mill Hill barracks got blown up. Since then I've also been to Potters Bar rail crash and the Marchioness disaster.
"These things do stay with you but so do the good things like when you know you have really helped someone – made a difference and put a smile on their face.
"My favourite patients are the older ones because they've got the best stories. There's nothing better that meeting interesting people with interesting stories to tell. I just love dealing with patients.
"There have been so many changes over the years: our equipment, the number of calls we get and our shift patterns have changed. Now everyone has been to university but it was different when I joined.
"When our patient notes went digital, it felt like too much change and I said I would leave. But instead I became a student again and learnt all about the new technology so now I can help others. I'm the poster boy for change!"
Michael Bawden, 64, paramedic: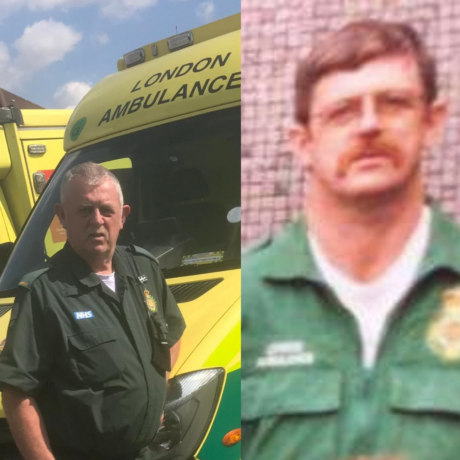 "My first job was as a musician in the military, then I worked in the building trade and then applied for a job at the ambulance service when I was 28 years old.
"Like everyone back then, I started in Patient Transport Services and then became a Qualified Ambulance Person before doing my paramedic training.
"I enjoy the job, you never know what's going to happen, you are always thinking on your feet even after 35 years. The experience does help especially when you're trying to get information from the patient.
"The job has changed beyond recognition. When I started, we used to go out with a black satchel that had some dressings in it. On the ambulance we had a stretcher and some oxygen but nothing like the equipment and medicine we carry today.
"But that's progress: we ensure patients get the right treatment and we can save more lives."
Chris Neely, 56, paramedic and stakeholder engagement manager: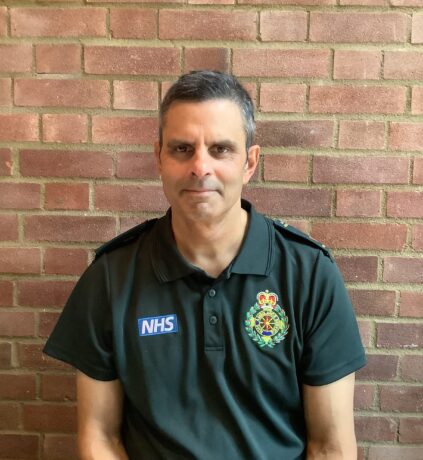 "I joined at 21 after working in the civil service for four years. Like most people, I started in patient transport and wanted to progress to the highest clinical grade before getting a 'proper job' thinking that I would stay for five or so years– not 35!
"I just really enjoyed the unpredictability of the work and all the challenges it presented dealing with patients at various times of the day and night. Not long after becoming a Qualified Ambulance Person I was posted to North Kensington Ambulance station where shortly afterwards the Service became involved in a pay dispute which lasted for months – it was a pretty big event at the time.
"After becoming a Team Leader I undertook various roles including and have seen many changes in those years. It certainly felt similar to how I regard rugby – there was an amateur era (I include myself in this!) and then we entered the professional period, having more highly trained and qualified staff.
"It was at this time I decided to enrol on the first degree course in paramedic science jointly run by LAS and the University of Hertfordshire.
"I have always enjoyed working with operational teams, there is a unique sense of humour in the ambulance service and I have memories of meeting people and patients that will last forever, including preventing a wife attacking her husband with a bread knife in a top floor flat. And of course some altogether happier occasions like delivering babies.
"There's a real sense of purpose in what we do – whether it's the headline incidents such as 7/7 or Ladbroke Grove rail disaster to the more routine calls.
"The pandemic has changed the way we work and it's important to recognise the hard work of all staff both in a clinical and non- clinical setting for their outstanding contribution to the Service."
Amanda Mansfield MBE, 53, began working for the NHS 35 years ago, now a consultant midwife for LAS: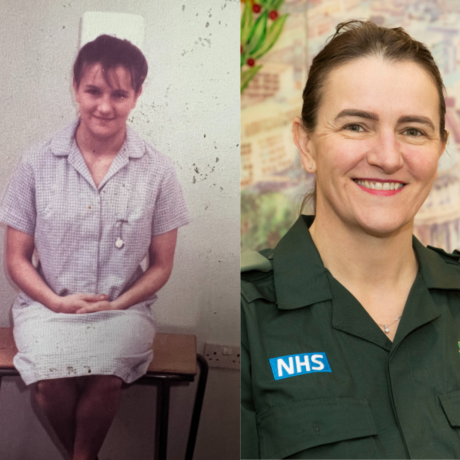 "I started as a student nurse at 18. I had been working before then in an old people's home and I loved caring for the elderly. It was just lovely, it felt the right thing to pursue a career in caring.
"At 23 I had my son and realised I wanted to develop further, into a midwifery career. I have attended the births of hundreds of babies: mostly babies born head first, but some who came bottom first, water births,  twins, lots in homes, in birth centres, and when attending in an ambulance.
"I have been really lucky to support women – even when the outcome is sad, being with women, is a privilege.
"I remember one birth, when the baby wriggled up the mother to her breast and I watched and cried together with the family– it was just amazing. To be there for those moments is such an honour".
"Midwifery and maternity care has evolved and so have ambulance services: I really embrace my role which involves supporting and listening to women and staff and designing our services around them.
"There is still a lot of work to do and COVID exposed health inequalities in mothers and babies. We are learning all the time and training our staff to support emergency maternity care and birth is an aspect of the role I value. It is the riskiest and scariest job but also the most joyful."