We ask Londoners to take care and help us help them during busy festive lead-up
This festive season we are expecting to be very busy and this comes at a time when we are already experiencing significant demand for our services.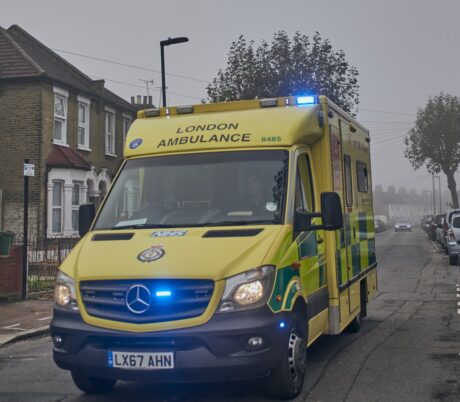 We will be doing all we can to ensure Londoners who need us get help as quickly as possible.
But we are asking people in the capital to help us by choosing the right place to get medical help so we can speak to and treat those who need us the most as quickly as we can – and to get their booster jab.
Brian Jordan, London Ambulance Service Director of Operations said:
"We have just had our busiest autumn ever – off the back of our busiest summer ever. Our staff and volunteers have been working incredibly hard in such challenging circumstances, and we'd like to thank them for their incredible efforts.
"Our message to Londoners is please help us to help you. If you have an urgent medical worry but it isn't a serious medical emergency please go to NHS 111 online first."
Getting the right medical care for your needs and helping us help you
Use the NHS 111 online service if your medical worry or concern is urgent, but it's not a serious medical emergency.
Click here to find out more about when to call 999.
The 111 online service can help if you need medical help fast – or if you're not sure what to do.
Don't forget that you can also speak with a GP or a pharmacist about less urgent medical matters and worries.
By only calling us in serious medical emergencies, you will be helping us to ensure we are able to speak to and treat the most seriously ill and injured patients as quickly as possible.
Unfortunately, when we're particularly busy, if you call 999 but it's not a life-threatening emergency, you will be waiting longer for an ambulance as we have to make sure our control room teams and ambulance crews speak to and treat the most seriously ill or injured patients.
Find out more about where to get the right medical help for your needs here.
Londoners are reminded that we all have a part to play to reduce the spread of the coronavirus. Please get your booster jab when you can.
Please work from home if you are able to and remember face coverings are required by law in most indoor settings. If you are travelling in and around London on public transport, please wear a face covering.
Find out more about COVID-19 and the government's Plan B here.
Listen out for our staff when you're on the tube
Sophie, Alyssa and David from our team have recorded messages to be played on the public address systems at busy underground stations across the capital this winter on staying safe when travelling – especially after drinking alcohol.
Their messages ask Londoners to take extra care when travelling after drinking alcohol and to remember to wear a face covering unless exempt.
Listen out for the messages if you're using the tube!
Staying safe if you're drinking alcohol
If you're drinking alcohol over the festive season and going out please be sensible.
When drinking alcohol it's a good idea to eat a meal before and to drink soft drinks between alcoholic ones.
If you're out drinking, please look after yourselves and your friends, so you don't end your night in the back of an ambulance.
Before heading out, make sure you know how you and your friends are getting home and keep an eye on one another to make sure you all get home safely.