Paramedic and firefighter sisters light up The Shard
London Ambulance Service paramedic Siobhan and her firefighter twin sister, Shivaun, got the festive season under way by lighting up one of London's most iconic landmarks this week.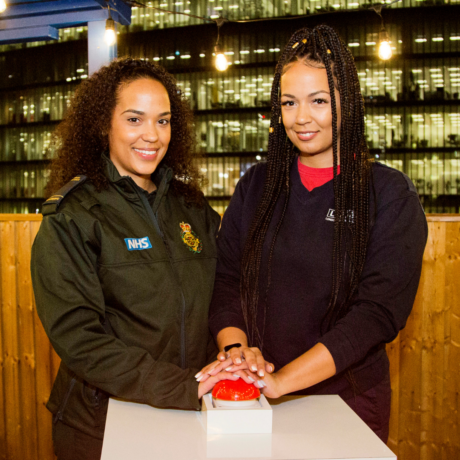 The sisters were invited to switch on the Christmas lights at The Shard in recognition of the incredible work they and their emergency services colleagues do every day.
They were joined by their daughters and other family members for the switch-on, which was televised live on BBC London last night.
Siobhan said: "Family is very important to me, and this year Shivaun and I are both lucky enough to have Christmas Day off so we will definitely be making the most of it.
"It was an absolute honour being asked to turn on the lights, and to have my sister by my side makes it even more special – truly a moment to remember. And to have both our children in the crowd watching is the icing on the (Christmas) cake!"
Siobhan – pronounced Si-o-bhan – has been a paramedic with London Ambulance Service for three years, while Shivaun has been with London Fire Brigade for four years.
More recently, Shivaun has been working on an ambulance as part of a blue-light partnership between London Ambulance Service and London Fire Brigade. Through this partnership, firefighters have been driving ambulances and assisting medics to help boost the emergency response to the COVID-19 pandemic.
The sisters have even been able to work a handful of shifts together – which they describe as a really positive experience.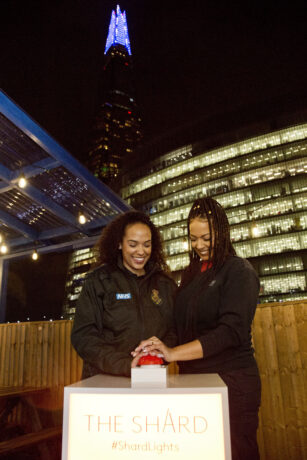 "Working throughout the pandemic has, of course, had its challenges for all of us," said Siobhan. "I have managed to do a few shifts alongside Shivaun while she has been supporting London Ambulance Service through COVID and it has been great to be able to share experiences and see each other's work methods in action."
Michael Baker, CEO of REM, asset manager of The Shard, said: "Too many of us take for granted the time we have over the festive period to celebrate and spend time with our loved ones. Following the events of last year, I'm sure we all have a newfound appreciation for those who work tirelessly every year to keep the country going while we enjoy ourselves.
"As one of the most iconic landmarks in London, we hope that this year's display will go a small way towards showing the over 900,000 blue-light workers expected to work on Christmas Day across the UK how truly grateful we are, as well as helping us to celebrate the togetherness we could not achieve last year."