Our HQ Christmas tree lights switched on by star with 50 years of service
The Christmas lights at London Ambulance Service have been switched on by one of our brightest stars – a man who is celebrating working an incredible 50 years for the Service.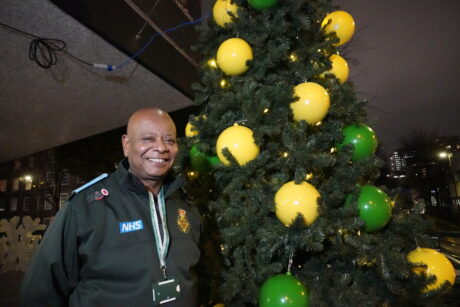 John Boyaram joined Chief Executive Daniel Elkeles and other colleagues for mince pies and hot chocolate round the Christmas tree at the Service headquarters in Waterloo on Wednesday night.
John, 68, said:
"I am really chuffed and over the moon to be invited to switch on the lights this year, and recognised again for my long service.
"I feel incredibly valued by the Service and I am honoured to stand alongside my colleagues today for this moment. This is something I will treasure for the rest of my life."
When John joined in 1971, London Ambulance Service was not yet part of the NHS and petrol only cost 34p a gallon.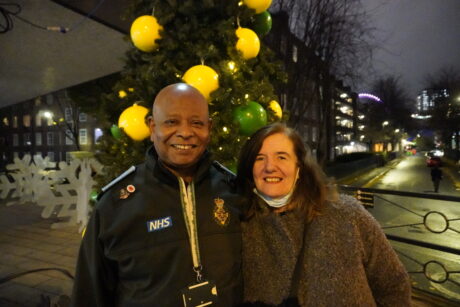 Since then John has worked in the 999 control room and patient transport services and now in non emergency transport service (NETS).
Throughout his career, his focus has always been on making sure patients have the best possible experience.
John, who's from Enfield, added:
"In the fifty years I have been at the Service I have seen lots of changes in the organisation, but what hasn't changed is that our staff and volunteers are our greatest asset.
"It is wonderful to see the impressive clinical expertise which continues to grow across the Service and it is also brilliant to see all the clinical development opportunities, as well as the support services, available to our staff and volunteers."
The operations manager considered retiring 10 years ago but his commitment and desire to serve London Ambulance Service meant he has now clocked up 50 years on the job.
John met his wife Carol at work in our Waterloo HQ and they have two children and four grandchildren.
Earlier this year, at our Annual Public Meeting, John was honoured with a special long service award. The award was a complete surprise to John – but his family knew and joined him on stage for a very emotional end to the night.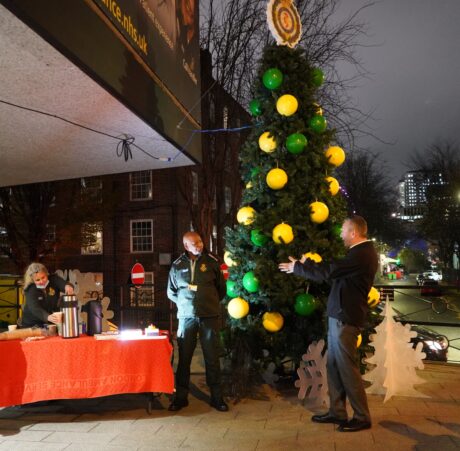 Chief Executive Daniel Elkeles said: "It is humbling and inspiring to spend time with John – Londoners are lucky to have him looking after them and we are lucky to have him in our team.
"I am deeply grateful for his passion and commitment to his patients and to his colleagues.
"Thank you to all our staff and volunteers this Christmas – I hope as many of you as possible can enjoy our tree – a little bit of joy after all the turbulent times we have been through."
Christmas trees were donated to London Ambulance Service by DNEL Events Ltd for our Waterloo and Bow sites and Barking and Croydon ambulance stations.