Our paramedics provide lifesaving training at Heathrow Airport as airport celebrates 20 years of defibrillators
Yesterday, London Ambulance Service community training paramedics taught passengers and staff at Heathrow Airport how to save a life.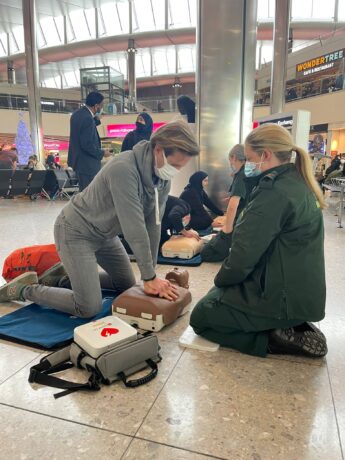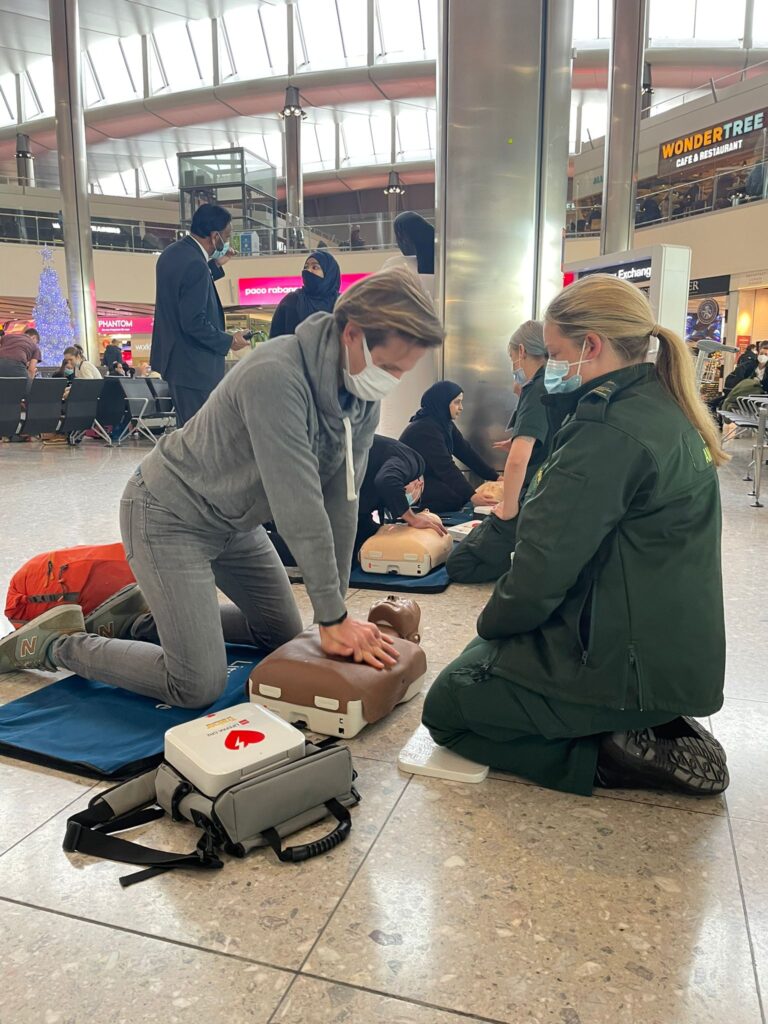 This training – which takes just five minutes – included what to do if you come across a person who has collapsed or if someone you're with goes into cardiac arrest.
It also covered how to check if someone is alert, check their airway and give proper chest compressions and being shown how to use a defibrillator.
In a cardiac arrest, every second counts and without lifesaving intervention, the chances of survival decrease by about 10 per cent with every passing minute.
Across the day, passengers and staff were taught in the international departures area in Terminal 2.
The airport has long been a pioneer in ensuring widespread distribution of defibrillators across the terminals and, as a result, the survival rates for passengers or visitors to the airport who have a cardiac arrest are significantly higher than average.
In the three years from 2018, an annual average of 78 per cent of people who went into cardiac arrest at the airport and were defibrillated survived.
The first public access defibrillator in the airport was installed 20 years ago this month and there are now more than 350 defibs across the airport.
Chest compressions pump blood around the body but it's also really important to use a defibrillator if one is available. Early defibrillation will attempt to restart the heart.
Between April 2020 and March 2021, London Ambulance Service attended more than 13,000 cardiac arrests. In that same time period, more than two-thirds of patients received CPR before crews arrived at the scene.
London Ambulance Service Chief Paramedic Dr John Martin said: "When a person is in cardiac arrest, prompt intervention while medics are on their way really is vital.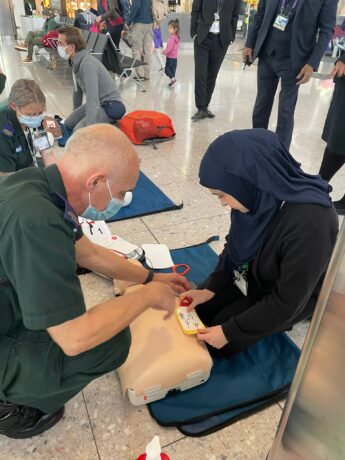 "This can be done by anyone, and being trained in lifesaving skills – like the training at Heathrow – gives people more confidence to step in.
"Early defibrillation vastly increases the chance of survival so public access defibrillators like those at Heathrow Airport and the more than 6,500 others across the capital are saving lives each and every day."
Mark Rothwell, Traffic Flow Controller at Heathrow said:
"It is fantastic to be celebrating 20 years of defibrillators at Heathrow with the London Ambulance Service.
"I was originally involved in the roll out of the DIPPI (Defibrillators In the Public Place Initiative) over 20 years ago when I was a Customer Service Duty Manager in Terminal 1, and I worked with LAS and the Department of Health in choosing where the equipment would be situated and training staff who had volunteered to take part.
"I have been involved since then in many incidents and continue to work with various Heathrow departments and LAS to promote this valuable piece of life saving equipment."
If you come across a person in cardiac arrest, this is what you should do: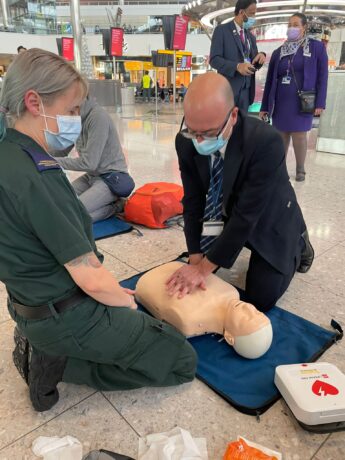 Make sure it is safe to approach and then check for signs of life.
Check to see if the patient is breathing normally, if the patient is not breathing or making irregular gasps this is not normal.
Call 999 and if there's someone with you, send them to get a defibrillator.
Defibrillators are located in large shops, GP surgeries, dentists, libraries and many other public places
The call handler will explain simply and clearly what you should do, so set your phone on speaker mode or make sure you can hear it.
Make sure the patient is lying on their back on the floor or the ground and remove anything under their head.
Place the heel of your hand on the breastbone – in the centre of the chest – right between the nipples.
Put your other hand on top of that hand.
Pump the chest hard and fast, at least twice per second and two inches deep.
Let the chest come all the way up between pumps.
Count out loud while you do this – the call handler will count with you and advise you if you need to speed up or slow down your compressions.
If there is a defibrillator available you, listen to the call handler's instructions on when to use it.
Before you use the defibrillator, undo or remove any clothing from the patient's chest.
Open the defibrillator and if there's an On button, press it.
Find the pads – peel off the backing and apply the pads to the bare chest as shown in pictures that come with the defibrillator.
Once the pads are on, the defibrillator will analyse the patient's heart and determine whether or not it needs to 'shock' the patient.  Do not touch the patient while the analysis occurs
The machine will tell you what to do. Follow its instructions – which are audible and visual.
If the defibrillator's analysis does not find a shockable rhythm, resume chest compressions.
Keep doing chest compressions and listen to the instructions from the call hander and until ambulance crews are on scene and tell you otherwise.