Mum 'very proud' of daughter who called 999 after she collapsed
Little Ariana was taught at a young age what to do in the event of a medical emergency.
And it was just as well that she was – because when her mum, Rosie, collapsed at home in the middle of the night, six-year-old Ariana kept calm and knew exactly how to respond.
"I got the phone immediately and called 999," says Ariana. "I knew what to do because I know if you need an ambulance then you call 999. I've seen it on Operation Ouch and other TV programmes."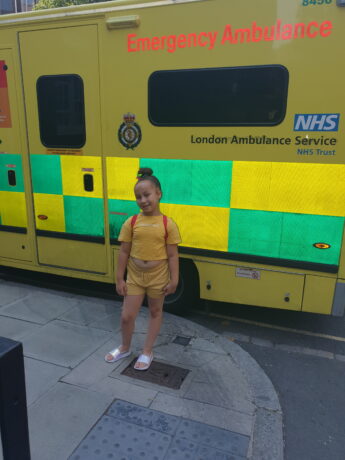 Ariana's mum, Rosie, had been unwell after contracting a number of viruses, and while waiting for some test results to come back taught her daughter, now seven, what to do should she or anyone else ever need an ambulance.
"I explained to Ariana that if I ever just fall to the floor and look like I'm sleeping, or if I'm asleep and won't wake up, that she is to call 999," says Rosie.
"Ariana is aware of how the emergency services work, and enjoys watching medical emergency programmes.
"It's so important to teach young people the scenarios where you may need to dial 999."
Ariana recalls being woken up by a crash one night last year, and getting up to see "Mummy walking, falling everywhere, holding on to the wall and things, and fainting near the bathroom".
At that point, Ariana – who wants to work for an ambulance service when she is older – picked up the phone and dialled 999. She then told the call handler that her mum was unwell, that she had fallen over, and that she needed an ambulance.
Rosie, who lives in Central London, says: "I am very proud of Ariana and ever so grateful that she woke up in my time of need and was here for me. She acted promptly and comforted me throughout the ordeal.
"Ariana has shown me huge compassion. We are all very blessed to have Ariana. I don't know what I would have done without the help of my daughter as I couldn't move a muscle after I collapsed."
Rosie is also encouraging all parents to teach their children what to do in a medical emergency – because "you never know what could happen".
"I am usually a fit and healthy person but sickness really took its toll on me and knocked me off my feet," she says.
"I know the conversation I had with my daughter prior to the incident gave her the confidence she needed, and that's what probably helped her to stay calm in the situation."
Dr John Martin, Chief Paramedic and Quality Officer at London Ambulance Service, said: "Ariana should be very proud of her actions that day. She kept calm under pressure and remembered exactly what to do, which is brilliant for someone so young.
"It's so important children are taught from a young age when and how to dial 999. While I know parents hope their children will never have to do this, please do take the time to ensure they know what to do if there is a serious medical emergency."
If you are a parent, you can teach your child:
How to dial 999
Your full address including post code – and also make sure they can say anything unusual about where you live
About your medical condition, if you have one. Talk to your child about it – including any medication you need
How to open the front door for emergency services
To recognise that ambulance crews wear green