Service's 2020 poppy badge appeal raised more than £5,500 for Royal British Legion
As we approach the beginning of this year's Poppy Appeal, a London Ambulance Service dispatcher who leads our internal poppy fundraising has presented the Royal British Legion with a cheque for £5,688 from last year's appeal, with our 2021 fundraising well under way.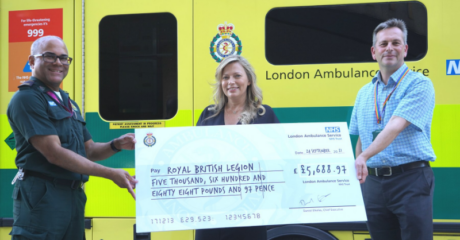 André N Elbourne- Le Brun, an Emergency Resource Dispatcher, coordinates fundraising for the Royal British Legion – with money raised by selling a special poppy badge to his staff and volunteer colleagues.
André took over from former colleague Lee Davies, who first designed and started to sell poppy badges to colleagues in 2009.
Lee was inspired to create a badge, as traditional poppies would often get damaged or lost during a busy shift on an ambulance.
Reflecting on last year's achievements, André said:
"Even during a worldwide pandemic, a challenging period of our LAS history, the staff delivered and supported a cause that's dear to many.
For me, my step father, a Jersey farmer's boy, joined the RAF and flew during the Battle of Britain. Whilst he never needed the support of the RBL, this cause is dear to me, because of his service and sacrifice. I'm simply doing my little bit to help those who serve. It is and will always be the least I can do."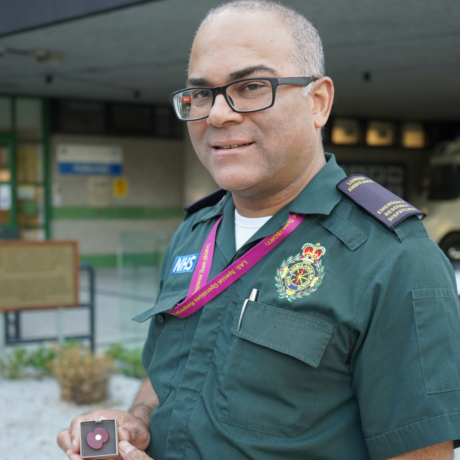 After presenting the cheque, LAS Chief Executive Daniel Elkeles said:
"The work that André has done over the past year has been fantastic, and we know that all of our London Ambulance Service staff and volunteers are extremely proud to wear the poppy badges to pay our respects to all our armed forces colleagues, past and present.
"I am very proud of this achievement, and would like to thank André and everyone who has supported this cause, and has helped to sell poppy badges across the capital."
The poppy badges are made available to London Ambulance Service staff and volunteers for a minimum donation of £3 and all profits are donated to the Royal British Legion. André is supported in the appeal by local 'reps' in stations and sites across the capital.