Chief Nursing Officer visits London Ambulance Service headquarters
Ruth May, Chief Nursing Officer for NHS England and Improvement, has met colleagues across London Ambulance Service to hear first-hand about the work of our nurses.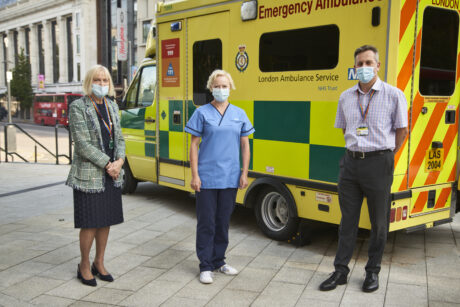 Chair Heather Lawrence OBE and Chief Executive Daniel Elkeles welcomed Ruth to our headquarters in Waterloo. She also met some of the highly skilled nurses who work on our ambulances and in our 999 and 111 control rooms.
They include Consultant Midwife Amanda Mansfield MBE who spoke to Ruth about some of the developments the maternity team has made in improving care for women and their babies.
Ruth toured our Emergency Operations Centre (EOC) where she met nurses Anna and Kate, who talked about the crucial role nurses have in our Service, particularly our mental health specialists.
Ruth also visited our Tactical Operations Centre (TOC) where she met Macmillan Nurse Consultant Diane Laverty and Head of Infection Prevention and Control and registered nurse Claire Brown.
Diane highlighted some of the work the end of life care team had achieved in collaboration with Macmillan over recent years.
The team was recently announced as the national winners in the NHS Parliamentary Awards 'Excellence in Urgent and Emergency Care' category.