Service celebrates two finalists for the Dispatcher of the Year Award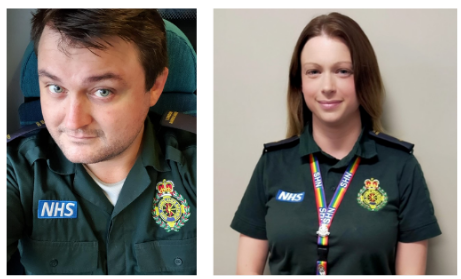 Two staff from our 999 control rooms have been praised for their work supporting Londoners in a national award for emergency dispatchers.
Emergency Call Coordinator, Peter Greensmith, and Quality Assurance Manager, Katie McDonagh, were selected as finalists in the National Dispatcher of the Year.
Last week they attended a virtual awards ceremony organised by the International Academies of Emergency Dispatch (IAED) alongside finalists from ambulance services across the country.
While they did not win, they were commended for being patient, agile and responsive to Londoners in need by the international body representing emergency dispatchers.
The annual award highlights the values and attributes that emergency dispatchers show every day. London Ambulance Service had put forward seven staff in total for the awards.
Simon Harding, Deputy Director of 111 and 999 Control Centres said: "These nominations are great news for our Service, and are due to their huge amount of determination and commitment.
"Working in an ambulance control room in any role can be challenging at the best of times – but to have gone through the past few months and still be providing the best patient care and support to colleagues is amazing.
"The fact that London Ambulance Service has provided seven nominees is a reflection of the professionalism, care, and empathy that we know our staff exhibit daily."
The staff nominated this year were:
• Sabrina Campbell – Emergency Call Coordinator
• Estelle Williams – Emergency Call Handling Supervisor
• Katie Smith – Emergency Call Coordinator
• Karen Clark – Emergency Call Coordinator
• Anna Jackson – Emergency Call Coordinator
• Peter Greensmith – Emergency Call Coordinator
• Katie McDonagh – Quality Assurance Manager.
Quality Assurance Manager at London Ambulance Service, Sarah Clark said: "I'm proud of all our nominees and delighted for Peter and Katie who were selected as finalists. To achieve this after the year that we've had is incredible, and it demonstrates their commitment during one of the most challenging times that the Service has ever faced."
Find out more about starting a career in our 999 control rooms.