Two of Service's pioneering initiatives recognised at an awards ceremony celebrating excellence in the NHS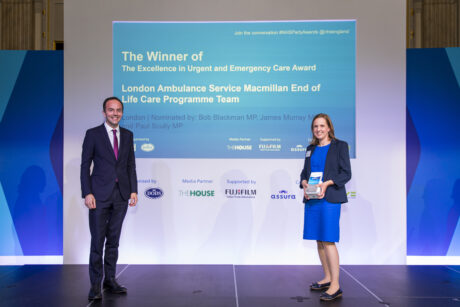 London Ambulance Service has been recognised at an awards ceremony celebrating excellence in the National Health Service.
The Service's End of Life Care Team, which provides training to ensure terminally ill people get compassionate care that respects their wishes, was announced as a winner at the NHS Parliamentary Awards today (7 July).
The End of Life Care Team received the Excellence in Urgent and Emergency Care Award, while our Mental Health care team was shortlisted in the Excellence in Mental Health Care Award category.
The teams were shortlisted for the national award ceremony after they were announced as the London Regional Winners in the same categories last November.
Both attended a ceremony in Westminster, where staff and volunteers across the country were recognised for going above and beyond the call of duty to make the NHS a better service.
Dr John Martin, Chief Paramedic and Quality Officer for London Ambulance Service, said:
"It's been a challenging year for all staff and volunteers at London Ambulance Service and we are proud of them all.
"The NHS Parliamentary Awards recognise how our pioneering services are helping our patients receive the best treatment for their needs.
"I am incredibly proud that the Mental Health and Macmillan End of Life Care teams were shortlisted and I'm delighted that the Macmillan End of Life Care Team picked up an award for excellence.
"This team has given staff the confidence to make decisions that meet the patient's wishes, which can often be achieved by supporting them and their families at home.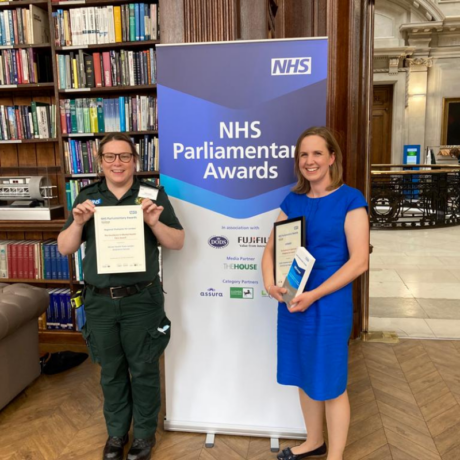 "Congratulations to all the nominees who were shortlisted. It is an honour to be recognised alongside so many talented and hardworking people."
The End of Life Care Team provides staff and volunteers with specialist training to ensure terminally ill people get care that meets their needs but respects their wishes.
They are funded by Macmillan Cancer Support, and also work with hospices and palliative care services to develop new care pathways that prevent a patient at the end of their life needing to be taken to hospital.
The team were nominated for the award by nominated by Bob Blackman MP, James Murray MP and Paul Scully MP.
Emma Tingley, Macmillan Head of Partnerships for London & South East Regions, said:
"A huge congratulations to the entire Macmillan End of Life Care Team on this richly deserved recognition. We are immensely proud to have partnered with the London Ambulance Service on this innovative programme – a first for the capital, which has combined Macmillan's expertise with the UK's busiest ambulance service.
"Macmillan has invested over £862,000 into the development and training of all 4,500 of the London Ambulance Service's clinical workforce, so they can better support terminally ill patients. And the positive impact of this pioneering project is already being shared nationwide, so will have a lasting legacy in London and beyond."
Our Mental Health Team was recognised for the Service's Mental Health Joint Response Car. This was piloted in South East London for six months in 2018 – and, due to its success, was eventually rolled out across London in 2020.
The scheme pairs up mental health professionals with medics in response cars to ensure people with mental health needs get the right and most appropriate treatment.
Find out more about both our End of Life Care team and Mental Health Joint Response unit initiative: