Hold a 'Big Tea' Party this summer to raise funds for LAS charity
Join the nation's biggest tea break this summer to raise funds for NHS charities – including the LAS charity – and to say a big thank you to the NHS.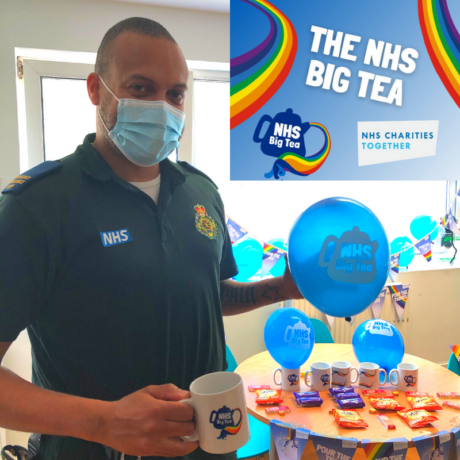 #NHSBigTea is coming on 5th July, the NHS's birthday. It's a national celebration of our NHS staff and volunteers who continue to go above and beyond.
Why not host a tea party in or around the 5th of July to celebrate our NHS and support NHS charities?
As well as donating to NHS Charities Together, you can donate to our charity.
The London Ambulance Service charitable fund receives donations and legacies from patients and members of the public to support the work of the Service and improve the working environment for our staff.
Other things funded by the Service charity recently include:
Memorial benches for ambulance stations to remember staff who have passed away
Plants and furniture for ambulance station gardens
Football kits for LAS teams
Thank you boxes for all staff and volunteers
Donate to the LAS charity as part of your Big Tea here.
Supporting NHS Charities Together also means you're supporting Team LAS and our NHS colleagues. We've received funding support from NHS Charities Together, including to help run our 'Tea Trucks' which provide refreshments to our crews at hospitals and other sites across London, seven days a week.
Ready for a tea party like no other? Join the nation in raising a cuppa for the NHS and to support vital NHS charities.
Find out more about NHS Big Tea here.
Our 'Tea Trucks'
Launched in February 2020, our "Tea Trucks" travel to hospitals and our control rooms across the capital each day, serving hot drinks and snacks to ambulance staff and volunteers and offering them the chance to take a moment to pause and refresh.
The trucks are driven and operated by staff who are currently unable to work in patient-facing roles – giving them an opportunity to play a vital role in our operations during the pandemic and to 'give back' to their frontline colleagues. We currently have eight trucks which operate at hospitals and other sites London-wide, seven days a week.
NHS Charities Together donated £100,000 for supplies on the trucks.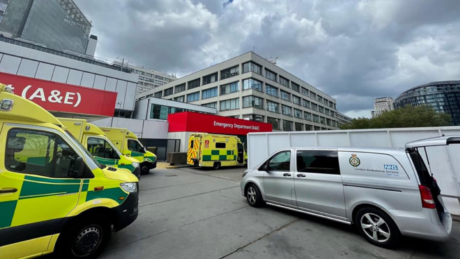 The trucks have been a lifeline for hard-working crews – especially at times when hospital cafes and high street cafes closed during peaks of the pandemic.
During lockdowns many spots where crews would usually be able to go in their rest breaks to get a drink, including cafes and hospital canteens, were closed – meaning the Tea Trucks were more than just a luxury.
They meant ambulance crews – who respond directly from patient to patient (rather than returning to ambulance stations) with little to no break – had a chance to pause for a hot drink and a snack.
But, the trucks offer more than a drink and snack. They meant staff and volunteers could stop for a moment and talk to someone: a significant aspect of boosting their wellbeing at such a difficult time.
At a visit to Newham Ambulance Station earlier this year, The Duke and Duchess of Cambridge met paramedic Shani who has been helping to run one of the trucks over the past year and heard how she has used her mental health training to provide peer support to her colleagues.
The Tea Truck Shani showed the Duke and Duchess was named "Sir Tom" in honour of Captain Sir Tom Moore for his incredible fundraising for NHS Charities Together.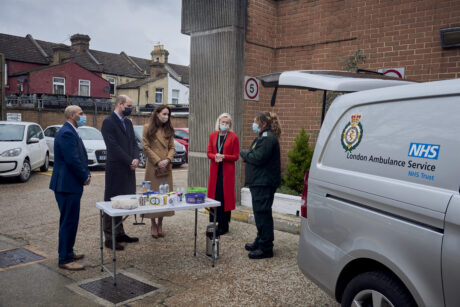 Shani explained how she uses her training out on the truck to help stressed colleagues over a cup of tea.
"It's so much more than a cup of tea. The Tea Trucks are sometimes the only way crews can get refreshments during lockdown and they offer the chance to talk and unburden if you have been at stressful incidents. This is as important as ever in the past few months."
Emergency Ambulance Crew Tony was one of our team on a Tea Truck, which he affectionately named 'Beryl'.
He said:
"Being part of the Tea Truck team gave me a purpose again and it's great to be able to be a valuable support to my colleagues.
"I get to provide them with a worthy service: a friendly face and a chance to relax in between callouts and I know it's very appreciated"
Another Tea Trucker, Sefi, who runs Tea Truck 'Felix' added:
"When I started out on the tea truck, I didn't expect the reactions from my colleagues to be so overwhelmingly positive! It makes me happy bringing a smile to everyone!"