Body worn cameras to be rolled out across country
The NHS announced this morning (Wednesday 2 June) that ambulance crews in England will be given body-worn cameras to try to reduce attacks on frontline medics.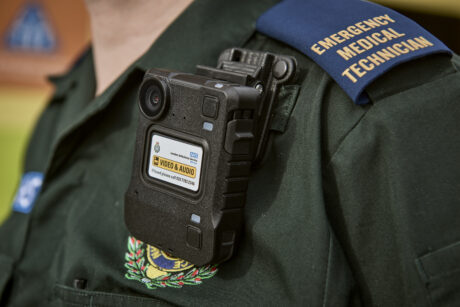 This follows ongoing trials which have seen London Ambulance Service crews trial wearing the cameras, as well as trials in the North East of England.
The NHS will now roll out the cameras to crews in the 10 ambulance trusts across the country.
Medics can press a button to start recording if patients or members of the public become aggressive or abusive.
Our latest figures show there were 650 physical assaults against our crews in the year up to April 2021.
As well as the cameras, we recently recruited two violence reduction officers and launched our #NotPartoftheJob campaign, as part of ongoing work to protect our staff and volunteers.
Emergency Ambulance Crew Gary Watson is based in Croydon and has been wearing a body camera as part of the LAS trial that launched this year at four of our ambulance stations in South and North London, in which crews wear the devices.
Gary was violently assaulted by a drunk patient in January 2018, while on duty. He suffered a torn ligament and serious injuries to his face, throat and neck in the attack. Two other medics were also injured and a fourth badly shaken. A man was convicted, receiving a suspended sentence.
Gary said: "These cameras are needed, and wearing one makes me feel safer. They act as a deterrent and will also help provide evidence if there is an attack.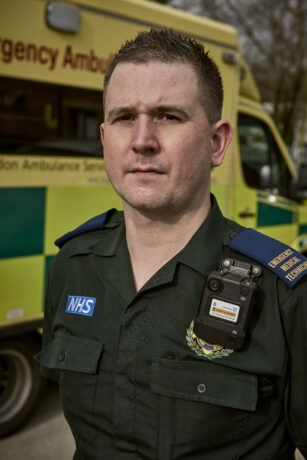 "We go to work to help people, not to be assaulted. It's disgusting that a minority think it's ok to behave in such a violent way."
Chief Executive of London Ambulance Service, Garrett Emmerson said:
"Nobody should feel unsafe or threatened at work – particularly our crews and call handlers who continue to make huge sacrifices to care for patients and have never worked harder.
"Looking after our people, keeping them safe and supporting their wellbeing is our top priority.
"It is shameful that our staff and volunteers can be abused while caring for others and we will always push for the prosecution of anyone who attacks them."
Mark Watson, Director of Workforce for the NHS in London said:
"We want every member of our dedicated and hardworking NHS workforce in London to feel safe at work – which is why, after a successful trial, we're pleased to be rolling out body cameras to all our ambulance crews to help reduce the number of incidents against them."
More about our trial of the cameras from when we launched and Gary on how being assaulted affected him: