Health Secretary visits Service's headquarters to meet staff and volunteers and thank them for their hard work
Yesterday, the Secretary of State for Health and Social Care, Matt Hancock, visited the Service's headquarters in Waterloo to meet staff and volunteers to thank them for their hard work over the last year.
Mr Hancock heard first-hand their experiences of responding to the COVID-19 pandemic and paid tribute to our teams for their efforts across some of the toughest periods of our history.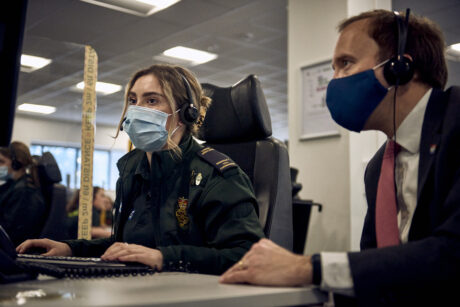 The Secretary of State was welcomed by our Trust Board Chair Heather Lawrence OBE and shown our new Emergency Operations Centre (EOC) call handling area by Chief Executive Garrett Emmerson.
This EOC facility was set up in just one weekend in spring 2020 as we were experiencing an unprecedented surge in demand for our 999 and 111 services and when it became clear we had to significantly increase our call handling capacity and ability to assess and triage incoming calls.
Mr Hancock met Emergency Call Coordinator Nancy Keating and listened in on a 999 call to see our call taking procedures and the hard work of our call takers in practice. Nancy also told the Health Secretary about working during the busiest periods over the last year and a half.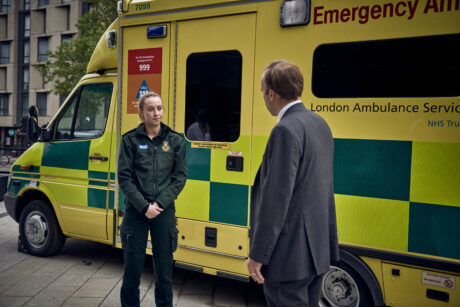 The Health Secretary then went on to meet paramedic Caitlin Fiddler in our new memorial garden area of our refurbished headquarters exterior. They discussed Caitlin's experiences responding as a frontline paramedic during the pandemic and her new role of working as a Clinical Advisor in our control room Clinical Hub.
Finally, Mr Hancock met staff and volunteers from teams across our Service, including Craig Hobbs from our fleet workshop team, Ben West, who is on a paramedic apprenticeship, recruitment advisor Abidemi Yusuf and volunteer 'Emergency Responders' Jenny West and Paul Harburn.
This meeting took place alongside one of our 'Tea Trucks' – operated by Emergency Ambulance Crew Scott Tyler. Our Tea Trucks provide drinks and refreshments to our crews at hospitals and LAS sites across London, seven days a week. Last year we received funding from NHS Charities Together for supplies for the trucks.
London Ambulance Service Chief Executive Garrett Emmerson said: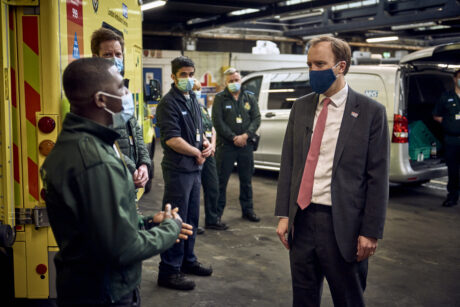 "Our staff and volunteers have been at the forefront of the response to the COVID-19 pandemic in the capital. The last year has been one of the most challenging periods we have ever faced, and our teams have worked harder than ever to ensure we can be there for Londoners when they need us most.
"We thank the Secretary of State for his visit and for his kind words of tribute to our teams – of whom we are immensely proud."