Duke and Duchess of Cambridge visit Newham ambulance station to meet teams supporting each other through COVID pandemic
The Duke and Duchess of Cambridge met teams from London Ambulance Service today to hear about what it has been like responding to the COVID-19 pandemic and the impact on their mental health and wellbeing.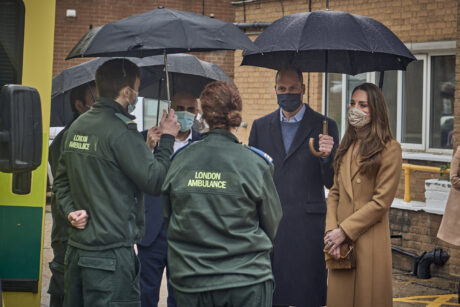 During a visit to Newham ambulance station in east London, Their Royal Highnesses met crews who have responded throughout the pandemic as well as ambulance staff who have supported their colleagues' mental health and welfare as our Service faced one of the most challenging periods in our history.
In the first days of the new year, our 999 call handlers were answering in excess of 8,000 calls a day – compared to around 5,500 calls on a 'normal' very busy winter day – while 111 health advisers were dealing with twice as many calls as usual.
Our Chair Heather Lawrence OBE welcomed the couple along with Deputy Chief Executive Khadir Meer.
Heather Lawrence OBE said: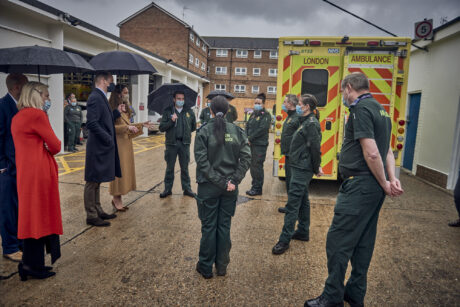 "It is very much appreciated that Their Royal Highnesses took time to visit and thank our staff who have worked throughout the pandemic often in very stressful and distressing circumstances."
The Royal visitors heard how the organisation had established numerous initiatives in response to the pandemic to support mental and physical health and wellbeing.
Khadir Meer said:
"Our Service has had to work harder than ever over the past year to care for London. It's vital and extremely rewarding work, but it can take a toll and even the most resilient of us need support at times like these.
"Looking after our people is essential to continue to care for Londoners. This is why we are trying to do everything we can to support the physical and mental health of our teams working under such pressure."
The Duke and Duchess of Cambridge visited a 'Wellbeing Garden' in a corner of the station created by staff at Newham themselves as their space for quiet reflection and peace after busy shifts. Here they talked with staff who had spent long periods away from their families while working on the frontline about dealing with the pressure of the past year.
The Royal couple also saw one of eight of the Service's so-called 'Tea Trucks' that have played an important role delivering hot drinks and snacks to crews at control rooms and hospital bays while London's cafes and hospital canteens remain closed in lockdown.
The Duke and Duchess are Patrons of NHS Charities Together which has donated £100,000 for supplies on the trucks. This 'Tea Truck' was named "Sir Tom" in honour of Captain Sir Tom Moore for his incredible fundraising for NHS Charities Together.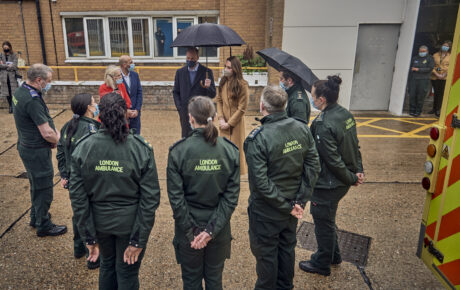 They met paramedic and tea truck volunteer Shani Smith who is trained to support peers struggling with their mental health.
Shani explained how she uses her training out on the truck to help stressed colleagues over a cup of tea.
Shani said:
"It's so much more than a cup of tea. The 'Tea Trucks' are sometimes the only way crews can get refreshments during lockdown and they offer the chance to talk and unburden if you have been at stressful incidents. This is as important as ever in the past few months."
Understanding the pressures that come with the job, we put in place numerous resources to help staff as we scaled up our response to the pandemic. The newly-introduced Wellbeing Hub connects staff and volunteers with a range of resources including a counselling service, a strong peer support network and an independent support line for anyone who has concerns about their emotional wellbeing.
The Service is also offering practical support such as COVID-19 testing and vaccination programmes, financial advice, refreshments including packs for those isolating, and rostering that allows people to take much-needed annual leave as operational pressures ease.