LGBT History Month – Brooke's story
Brooke's story
My name is Brooke McGahey. I work as a 111 Pathways Trainer and Health Advisor in the Service's South East London Integrated Urgent Care Centre in Croydon. My day to day working for LAS can be anything from taking 111 calls to coaching, auditing or delivering training courses.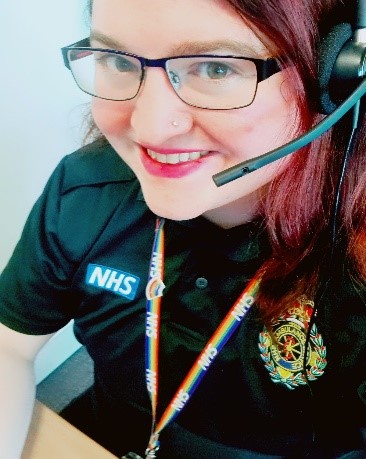 Since I started working for LAS, I have felt supported in my roles, be that taking calls or when delivering training. When the opportunity came to join the training team, any worries and doubts were quickly swept away by how amazing management and colleagues are in encouraging progression and advancement.
Being different was never an issue.
As a bisexual post-op trans woman, there was always going to be worries when starting a new job, a new career.
I had my interview and accepted a job offer with LAS a week before my Gender Affirmation Surgery. It was going to be a massive change in so many ways.
My training was first-rate, and my colleagues and trainers were amazing. I always felt I could just be myself.
That feeling is beyond words and reminds me of a quote from basketball player Jason Collins:
"Openness may not completely disarm prejudice, but it's a good place to start"
and an Islamic proverb:
"A lot of different flowers make a bouquet".
I have never felt more comfortable being myself, before working for LAS. The trust, like London, is an ever increasingly diverse workplace. It is simply amazing, the strength, diversity and difference this brings, especially for patient care. It is almost immeasurable.
Making things normal reduces fear, removes prejudice and opens up acceptance.
Being part of LAS has opened my eyes to how honesty, being true to yourself and living your life openly can help others. When people join the Trust, having the opportunity to meet open and inclusive people they can feel more relaxed, more accepted and know they too will be valued for who they are, no matter what.
Giving people greater access to information can really open up their understanding and reduce misconceptions, fear, worries and anxieties that they may feel or have.
LAS is a place everyone should feel they can work. Our differences and who we are make us stronger as an organisation. LGBT History Month is a time for learning and growing together.
Reflections on LGBT History Month from our LGBT Network Co-Chairs:
LGBT History Month gives us the opportunity to put a spotlight on organisations that are available for support, for recognition of how far we have come to be accepted for our choices, the absolute pride we have in our network members, allies and colleagues who support us and the opportunities to further improve.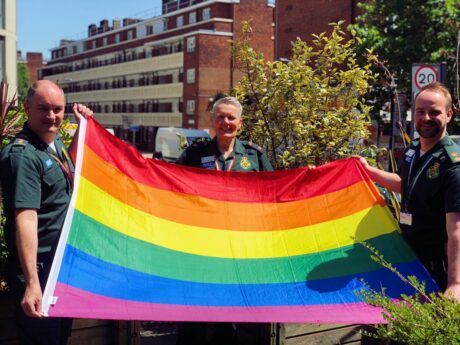 This History Month, and every month, we hope that colleagues who identify themselves in the LGBT community feel they can be who they are in the safety of their work environment and if they need to, know that we are here to support them in any way we can.
LGBT History Month is a very important reminder of how far we have come, the acceptance we have gained and how intolerance has no place in the modern wold.
LGBT History within the LAS has changed considerably over the last couple of decades and we have worked hard to make the Network meaningful both within the Trust and nationally.
When we see staff and volunteers wearing lanyards and badges whether in LGBT representation or in support, we feel proud of where we have come. There is still work to do but for this History Month, we should reflect on what we have achieved as an organisation, where we need to be and how we can achieve it.
LAS LGBT Network Co-Chairs Alex, Jules and Lee.
Further information and support
LGBT Foundation is a national charity delivering advice, support and information services to LGBT communities. For the Foundation's helpline, call 0345 3 30 30 30 or email [email protected].
Switchboard is an LGBT helpline to help you with whatever you want to talk about. Nothing is off limits and conversations are 100% confidential. Call 0300 330 0630 (10am-10pm daily).
Additional support websites and organisations:
You can also follow our LGBT Network on Twitter.