Call handler paralysed below the waist walking a mile to raise funds for Service's charity
A London Ambulance Service Emergency Call Handler who suffers with a rare condition which left him paralysed below the waist is walking a mile to raise funds for the Service's Charitable Fund.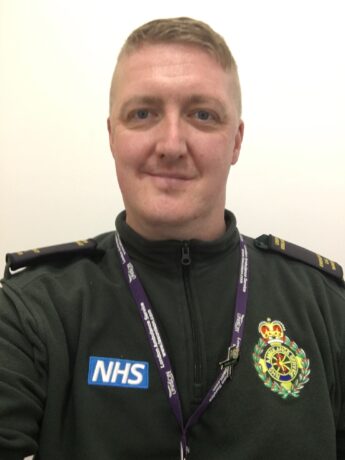 Sean Ash, who works in the Service's control room team, was diagnosed with Cauda Equina Syndrome in August 2020. As well as resulting in the lower body paralysis, the diagnosis left Sean struggling with his mental health.
He says:
"I didn't see a way out, I didn't see any purpose to my life. I went from playing football with my kids, to being in a wheelchair all the time. I didn't think I would get through this. But I did."
After diagnosis and initial treatment at hospital in Kent, Sean underwent surgery at King's College Hospital in London – which prevented further paralysis.
Sean was then transferred to the National Spinal Injuries Centre at Stoke Mandeville Hospital in Buckinghamshire. He here underwent physiotherapy and hydrotherapy and had sessions with a psychologist.
Sean was told there was very small chance that he would ever fully recover.  But he has worked hard to begin to take some steps with his Zimmer frame.
Since diagnosis, Sean has been able to walk about 10 metres and has called his fundraising challenge the 'Xtra Mile' to reflect how tough walking a mile will be and his commitment to push himself to raise funds.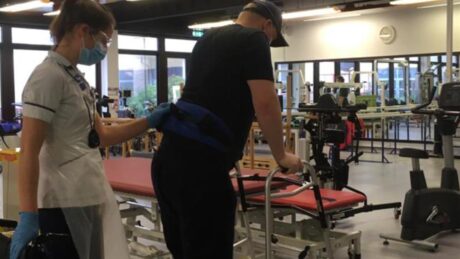 The Service's Charitable Fund exists to support the work of the Service and improve the working environment for our staff and volunteers.
"I'm going to go the 'Xtra Mile' because our NHS staff all go the extra mile for us every day, and working at the London Ambulance Service has opened my eyes to the stress and difficulties that our NHS staff and volunteers endure for us.
"I want to help to give something back and I hope you can all rally behind me as I attempt to pull off the impossible. I'll do my very best. Thanks for your support."
Sean will be walking one mile with his Zimmer frame (in two sessions) with a wheelchair behind him for safety reasons. He will be walking on Friday 15 January and Friday 22 January.
 You can donate via JustGiving here. Sean has so far raised an amazing £4,000!