We urge Londoners to see in the New Year safely by staying at home
We would like to wish Londoners a very Happy New Year.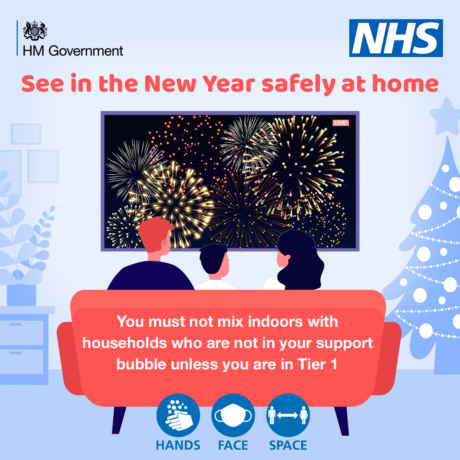 New Year's Eve will be different this year and we all need to mark the occasion differently – to keep ourselves, our loved ones and our communities safe and to help reduce the spread of the coronavirus.
The capital is in Tier 4 of the national Covid-19 restrictions, so please stay at home. It's crucial we all continue to play our part in helping reduce the spread of the virus.
We must ask Londoners not to gather or mix with people not in your household or support bubble. Instead, if you're celebrating please do so at home, safely.
There are virtual events taking place to mark the New Year.
Please take care. If you're drinking alcohol please don't drink so much that you need our help and be careful, responsible and sensible. Please don't forget that fireworks can be dangerous.
Our crews on the road and our 999 and 111 control room teams are geared up to help Londoners this New Year's Eve. We'll be working very hard to help those who need us.
We urge Londoners to help us to help them at this very challenging time as we are seeing extremely high demand on our services.
If you have an urgent medical concern but it isn't an emergency please go to NHS 111 first by going online to www.111.nhs.uk. 111 can provide support and advice to patients who don't need an emergency ambulance – including helping with booking you a GP appointment if you need one or even a time slot in an A&E if required.
You can get advice and support online – or you can call 111 if you can't get online.
Enjoy the New Year celebrations but please do so safely and help us to help you.