Star of 'Ambulance' documentary opens up about cancer as he urges men to get checked out
A star of the award-winning TV show Ambulance has revealed how cancer spread to his organs because he was too embarrassed to tell a doctor.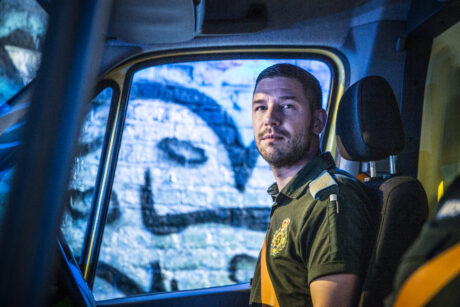 Stuart, who works as an Emergency Ambulance Crew, appeared in the seventh episode of the programme on BBC One on 28 October.
After treating a woman with cancer, Stuart spoke of having testicular cancer when he was just 20-years-old.
Now 33, Stuart said: "I left it for eight months before seeing a doctor and even then I didn't tell them I had found a lump on my testicles. I said I had belly pain or I had back pain.
"I got three wrong diagnoses including appendicitis and IBS because I didn't tell them about the lump on my testicles."
By the time Stuart did open up to doctors, the cancer had spread and he had tumours on his lymph nodes round his liver.
He needed surgery followed by intensive and aggressive chemotherapy for 12 hours a day for more than three months.
Stuart said: "When you get a diagnosis of cancer, you think 'I'm going to die' but the hardest thing was seeing my mum and dad so distraught. Both of my mum's parents had died of cancer and then she had to see her son seriously ill too."
Treatment and recovery lasted a year and left Stuart infertile.
He hopes by sharing his story, he will encourage other young men to seek medical help before it is too late.
He said: "There is a massive stigma for boys – but it's really important to check yourself. And if you do find something, just say something because it will be so much easier in the long run.
"It was impossible for me to have children naturally – but before my chemotherapy some of my sperm was frozen – but it was still hard for my partner and me to have a baby.
"We went through IVF and our second try was successful and we now have a baby boy."