"I may not be considered the stereotypical example of a paramedic. I'm a black female"
This Black History Month paramedic Charlene shares her story of how seeing a black female paramedic – and representation of herself – inspired her to achieve her goal.
I may not be considered the stereotypical example of a paramedic. I'm a black female. I left school with no GCSEs and I had my first child at 19.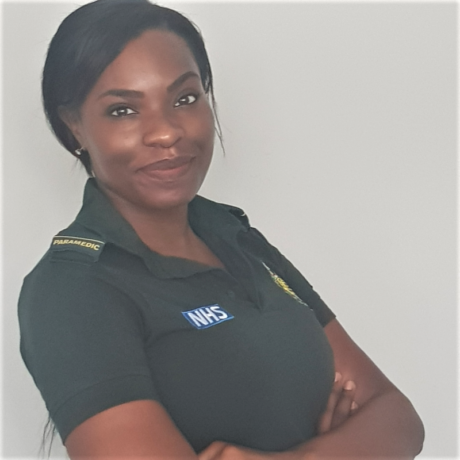 My partner of 16 years has always been supportive but due to my school grades I never thought I would be clever enough to achieve academic success.
As a result, I tended to minimise my expectations and pursued less challenging and mundane jobs with no real career progression or job satisfaction. I can definitely say I felt like I lacked purpose.
Following an accident, I had to call the ambulance service for assistance and when they arrived, I was surprised to see a black female paramedic.
It had never occurred to me that there were black paramedics as it was something I had never seen.
Some things can seem out of reach if you do not see representation that looks like you!
This was the first spark of inspiration that led me to want to learn about the role. The research I did explained that the role was dynamic, fast-paced and offered lots of opportunities for career progression.
Given my poor GCSE results, I was required to complete an Access Course in Nursing and Midwifery for a year and then went onto study a BSc Paramedic Science degree at Greenwich University for a further three years.
It took a lot of hard work and dedication to achieve my goal while raising two children, maintaining a home and going on placements with the London Ambulance Service.
However I remained focused and determined and I even adopted my own mantra, "Keep focused, stay determined and aim to wear the green". I know this is a bit cheesy but it got me through hard times.
In early 2018, I finished university and achieved grades much higher than I ever thought I was capable of achieving. I am now a Health and Care Professions Council (HCPC) registered paramedic and have been with the service for over two years.
I finally have job satisfaction and various opportunities to progress even further in my career.
The first year was very challenging. Although university is excellent in providing you with the skills and knowledge you need for the role; it cannot prepare you for both the physical and emotional challenges the role presents, especially while raising young children.
Nevertheless, I love being a paramedic. No two days are the same; you are constantly learning new things and meeting people from all walks of life and there really is no better feeling than helping people in their hour of need. I'm also lucky enough to work out of a lovely ambulance station with the friendliest people.
Sometimes I look back and wonder where I would be now if I didn't see that black female paramedic. It was seeing a representation of myself that inspired me to become something I never thought I could.
I truly hope that anyone reading this who doubts their ability to achieve something due to lack of education or otherwise remembers that these are just hurdles and hurdles are there to be jumped over!