Service's End of Life Care team raises funds for Macmillan Coffee Morning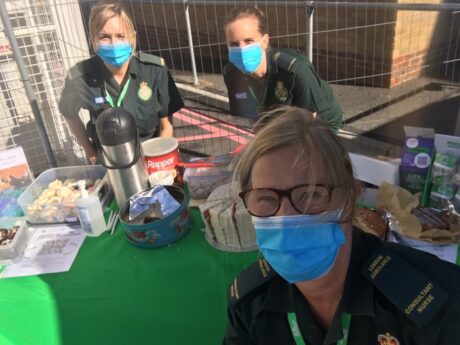 Our End of Life Care team has been travelling across the capital to raise vital funds for Macmillan Cancer Support – serving coffee and cakes and talking to colleagues about palliative care.
The Service partnered with Macmillan Cancer Support in 2018 to provide our staff and volunteers with specialist training to ensure that terminally ill people get care that meets their needs but respects their wishes. As part of this, Macmillan funded three roles in our End of Life Care (EOLC) team.
Diane Laverty, Karina Catley and Georgina Murphy-Jones from the team held a series of socially-distanced coffee mornings at hospitals and London Ambulance Service sites on Thursday 24 September ahead of the charity's World's Biggest Coffee Morning on Friday.
As well as raising money for Macmillan Cancer Support, the trio had important conversations with ambulance crews about palliative and end-of-life care.
The Service's End of Life Care team provides training to medics and other staff and volunteers in the Service so they can best support patients who are nearing the end of their life. This can help avoid unnecessary trips to the hospital which can be distressing to the patient and their family.
They also provide additional training to increase confidence among clinicians in fulfilling patients' wishes – where appropriate and safe to do so – about treatment and other key decisions, and offer staff small, virtual reflection debriefings that focus on wellbeing.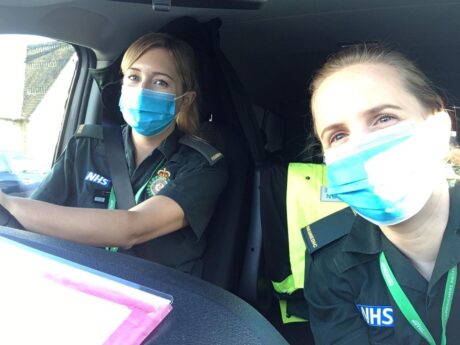 Karina said: "Colleagues say our training gave them the confidence to make the necessary decisions. They find it extremely rewarding to be able to fulfil people's wishes.
"It is a shift from what emergency crews are typically taught, as we are trained to preserve life, but palliative and end-of-life care involves a different type of treatment and support for patients and their families."
The team travelled around the city in one of London Ambulance Service's wellbeing vehicles, and provided cake and hot drinks in exchange for donations at eight different sites over 12 hours. They raised more than £727.