Episode 2 of 'Ambulance' shows the contribution of voluntary Emergency Responders
The second episode of the new series of the BBC documentary 'Ambulance' highlights the contribution of volunteer responders as London Ambulance Service (LAS) faces challenges from large protests and an IT system outage.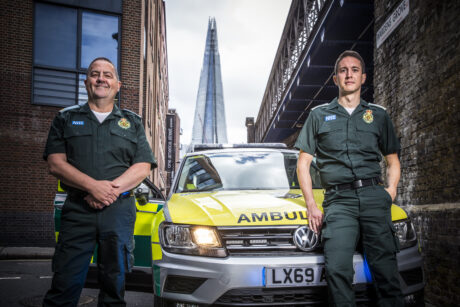 The episode, airing on Wednesday at 9pm on BBC One, goes behind the scenes of two busy weekend shifts where LAS faces the challenges of Extinction Rebellion protests and People's Vote marches and an IT systems outage which means the Service's Emergency Operations Centre control room teams must use pen and paper to take down information from 999 callers.
Filmed in the autumn of 2019, viewers will see the variety of what a weekend day shift can bring for the country's busiest ambulance service – from advanced paramedic Kevin responding to a cardiac arrest to crewmates Emily and Laura treating a 100-year-old who has fallen.
All this while protests across central London pose the challenge of how crews can ensure they reach patients quickly.
Viewers will also see Gary and Fabio – two of around 150 LAS Emergency Responders (ERs) – on shift. Retired police officer Gary and Fabio – who works in finance – volunteer their spare time responding to patients in the capital.
ERs are LAS-trained volunteers who attend a range of emergency calls in Service uniform and in blue-light response cars.
LAS Chief Executive Garrett Emmerson said:
"This second episode again shows the breadth and variety of our Service and the commitment of all our staff and volunteers – as they face challenges from protests and IT system outages, but still respond to those who need us.
"We are also delighted to see some of our volunteer Emergency Responders on the screen. Volunteers play a key role in our Service and this show highlights their commitment, professionalism and dedication."