A message from the Chief Executive – 21 September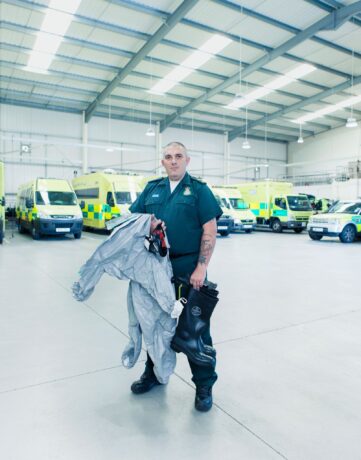 It is with immense sadness that I have to announce the death of our friend and colleague Reverend Simon Woodmore, who passed away on Saturday afternoon (19 September) after suffering with a stroke earlier in the week.
He was 51 years old.
Simon joined the London Ambulance Service in 1991 and served more than 29 years.
He started at Kenton in the Patient Transport Service and qualified as a Qualified Ambulance Person in 1992, later qualifying as a Paramedic. After being a fantastic team leader and Duty Officer for the teams at Kenton, Simon joined the Chemical Biological, Radiological and Nuclear (CBRN) team based at Deptford in 2004 as an Operations Officer.
In 2006, Simon moved to the newly formed Hazardous Area Response Team (HART) as the Team Leader at Deptford. Later in 2011, Simon moved to the role of HART Operations Officer based in Isleworth, where he built the newly formed HART West Team. Simon later qualified as a National Inter Agency Liaison Officer, and has worked on many national groups for the HART and CBRN response.
Simon played an instrumental role in establishing HART in London and across the country, and his involvement will always be considered fundamental to getting HART to where it is today.
Simon was revered for the way he always had the welfare and comfort of everyone around him at heart. He stood beside his colleagues in the London Bridge attack in 2017 and the Wraysbury flooding in 2014, and supported colleagues in response to Grenfell where he helped manage the extended response.
Outside of work, Simon was a much-loved Reverend and was devoted to his church. He was also well-known for his compassion and altruism, as he regularly spent time working with charities aiming to provide humanitarian relief, such as working with charity Search And Rescue Assistance In Disasters (SARAID) and also being deployed to support refugees at the Refugee Camp on Calais.
He will be greatly missed by all.
My thoughts and deepest condolences and, I'm sure, those of everyone at London Ambulance Service, are with Simon's wife Michelle and two children Gemma, 19 and James, 16, at this incredibly difficult time.
Garrett Emmerson
Chief Executive Officer, London Ambulance Service