Service's 'Tea Trucks' given NHS Charities funding boost to continue serving refreshments to hard-working crews
We have received funding from NHS Charities Together to continue to run "Tea Trucks" which have been delivering hot drinks and snacks to our crews across the capital.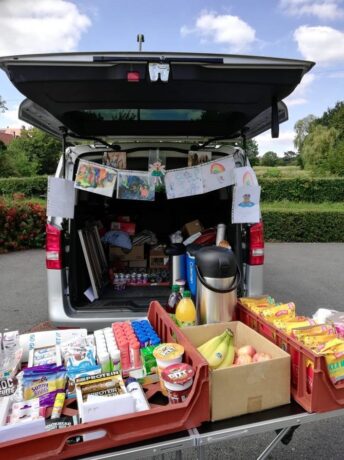 During the coronavirus pandemic, six of these "Tea Trucks" have been around London serving hot and cold drinks and some treats – and giving staff and volunteers a chance to take a moment to have a quick pause, chat and refresh.
These vans have been running six days a week – to sites such as our 999 and 111 control centres as well as to crews at hospital bays.
The funding from NHS Charities Together – of £50,000 – will help pay for supplies going forward and help us continue to staff the vans. As we approach the busy winter period we will still be able to give our hardworking teams a boost. It will also allow us to run the vehicles during night shifts – when getting a snack or drink can be difficult.
The "Tea Trucks" have been staffed by people from across our Service, mainly from those who are not currently able to be patient-facing but also from union colleagues and staff coming in on their days off to help.
At the peak of the pandemic especially, the Service was receiving a huge amount of food and treats donated by the public and by organisations. The Tea Trucks meant we could distribute this all around London.
During lockdown many spots where crews would usually be able to go in their rest breaks to get a drink, including cafes and hospital canteens, were closed – meaning the Tea Trucks were more than just a luxury.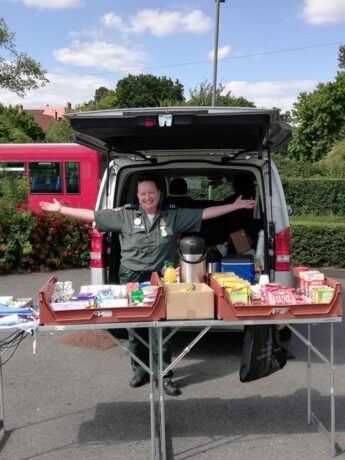 Emergency Ambulance Crew Tony Keegan was one of our team on a Tea Truck, which he affectionately named 'Beryl'. He said:
"Being part of the Tea Truck team gave me a purpose again and it's great to be able to be a valuable support to my colleagues.
"I get to provide them with a worthy service: a friendly face and a chance to relax in between callouts and I know it's very appreciated"
Another Tea Trucker, Sefi Dakar added:
"When I started out on the tea truck, I didn't expect the reactions from my colleagues to be so overwhelmingly positive! It makes me happy bringing a smile to everyone!"
Katy Crichton, our interim Head of Wellbeing said of the funding boost:
"We are so grateful to receive this funding. The amount raised from the generosity of the public and through fundraising efforts such as that of Captain Sir Tom Moore is nothing short of amazing and we thank everyone who donated to NHS Charities Together.
"We know the public, when donating, wanted to play their part in helping NHS workers and we think they would be thrilled to know they have helped give staff and volunteers a well-earned cup of tea while they are working so hard for Londoners."