Child 999 caller given recognition for saving family's life
A ten-year-old girl has been recognised by London Ambulance Service for saving the lives of her family after finding her mother unconscious with carbon monoxide poisoning.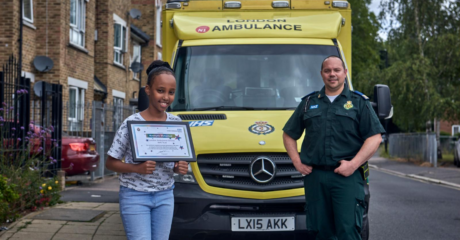 Rawda Mohamud woke in the middle of the night to hear the carbon monoxide alarm going off in their south London flat.
She found her mother, Anisa Abdirahman, on the kitchen floor and called 999.
Rawda, who was nine at the time, knocked on neighbours' doors to help get Anisa and her twin brother Ridwan out of the flat and away from the deadly fumes.
London Ambulance Service has awarded Rawda a Life Savers certificate, which was presented by emergency medical technician Stuart Shelley, who treated Anisa on the night.
Stuart said: "For a child that young to be so calm when something so traumatic has happened is just outstanding.
"She found her mum and immediately looked for her phone to call for an ambulance. She was able to remember her full address with postcode and her mum's phone number and then she managed to wake her neighbours.
"Her actions that night saved lives and deserve to be recognised."
Anisa, 27, had hit her head when she collapsed and had been drifting in and out of consciousness as her daughter raised the alarm.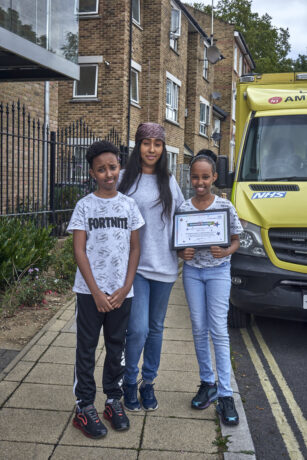 On the 999 call, Rawda tells call handler Karlie Conway: "She says he can't stay awake. She says she can't open her eyes."
The carbon monoxide alarm can be heard beeping in the background of the call.
Anisa, who is a single mum to the twins, said: "I didn't know how sick I was until I got to hospital and the doctor said if I had been there on the floor another 10 minutes we could have all been gone.
"I'm so proud of Rawda. I started teaching both the children how to make a 999 call when they were four. All parents should teach their children – you never know if you will need help one day."
Rawda added: "I feel proud of myself for what I've done for my family. I think I managed to stay calm because I always knew everything would be ok.
"I would say to other children, be careful and be calm. You don't believe something like this will happen to you but you never know."