Mayor opens hi-tech training academy boosting control room response ahead of busy winter period
A new centre providing interactive training for London Ambulance Service's emergency call handlers to help them better prepare for their challenging role taking life-saving calls was officially opened today (Friday).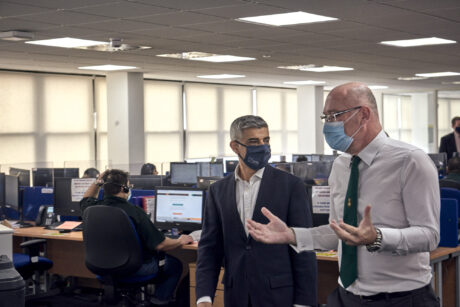 The state-of-the-art facilities will deliver greater training capacity and boost the Service's emergency and urgent care workforce ahead of the busy winter period and any potential further or future spikes in Coronavirus.
Mayor of London Sadiq Khan joined staff and volunteers for the unveiling of a plaque to formally launch the 999 centre which welcomed the first students in recent weeks.
Similar training facilities for 111 call handlers and an expanded call centre to accommodate 100 extra 111 call handlers will open at the site in Barking in October.
At the launch, Mr Khan saw new interactive facilities designed to simulate the challenging reality of call handling at every step.
In the Covid-19 compliant centre, students will gain better experience listening to calls and role playing exercises to build confidence before they start to answering real patient calls.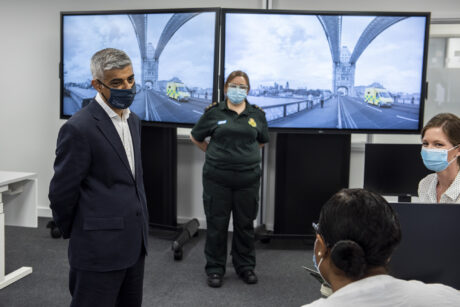 Garrett Emmerson, London Ambulance Service chief executive, said:
"This new centre is a great illustration of how we have scaled up operations to meet the pressure created by the Coronavirus pandemic while continuing to plan for the future and ensure we remain a world-class ambulance service.
"These safe, Covid-19 compliant facilities will hugely enhance our training for 999 and 111 call handlers and will also help us meet the challenges of the winter months and any potential surges in Covid-19.
"We couldn't have achieved any of this without personal sacrifices of our incredible staff and volunteers, as well as the generous collaboration of many of our partner organisations and I would like to thank them for their dedication."
During the launch, Mr Khan met staff who helped respond to the outbreak of Covid-19 and thanked them for their dedication and commitment.
Mr Khan said: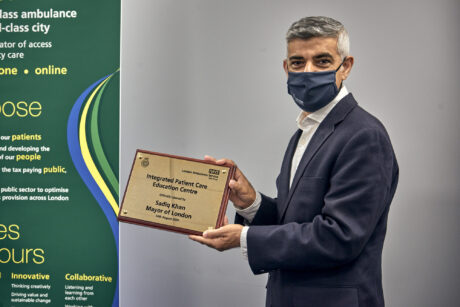 "On behalf of all Londoners, I want to thank the paramedics, the emergency call handlers, staff and volunteers at London Ambulance Service for their incredible service to our city throughout the biggest public health crisis we have seen in our lifetime.
"It has been one of the busiest periods in the service's history and they have risen to the unprecedented challenge, putting the needs of Londoners ahead of their own so they could be there on the frontline when we needed them. We will never forget that."
At the height of the Covid-19 outbreak, around 11,000 calls came in to 999 each day, compared to an average of 5,500 a day. Calls to 111 service in north east and south east London tripled at the busiest period.
The unprecedented demand meant London Ambulance had to rapidly introduce innovative ways of working and ground-breaking new partnerships with public and private sector partners as the virus reached its peak.
More than 700 volunteers, former members of staff, student paramedics and others came forward to help with the Covid-19 response, together with around 400 London firefighters who drove ambulances to ensure more crews were out on the road.
An additional control room dedicated to receiving covid-19 emergency calls was set up in Waterloo and staffed by 130 student paramedics. The AA also joined the effort by sending mechanics to help the Service's logistics teams keep ambulances on the road.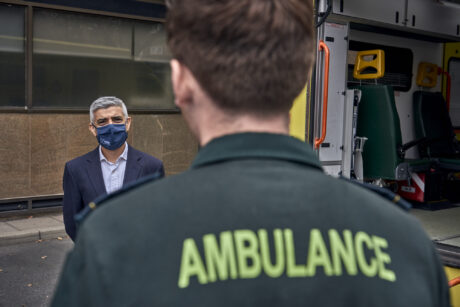 Meanwhile, many staff and volunteers at LAS made personal sacrifices as they battled the virus on the front-line.
More than 160 London Ambulance Service medics, emergency call handlers and support staff were separated from their families for more than a month, moving into temporary accommodation so they could remain on the frontline to help Londoners.
Among them was Melissa Goes, 37, a trainee emergency ambulance crew based at Romford. Meeting the Mayor during the visit, she recounted how she lived in a hotel during the pandemic for four months to shield from her dad who has cancer.
"It was a stressful time.  There were so many calls and of course you do worry about catching it yourself but you put patients first," she said.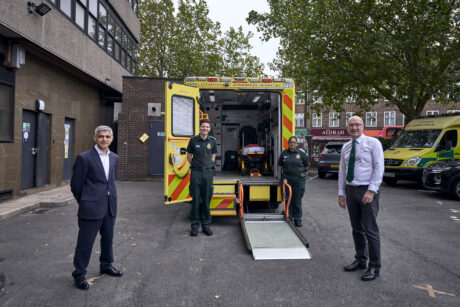 "But most of all I remember how the Service pulled together and how appreciated I felt by the public. People would come up in the street and say 'thanks' and offer you a cold drink. I got to know my colleagues so much better because of it.
"I feel so proud working for the ambulance service and being able to play my part in fighting this virus."
Recently Melissa has been able to move in with her boyfriend.
"It's so great to have a kitchen after four months, and not have to live off pot noodles! I can also enjoy my rest days a lot more – not being confined to four walls," she said.