Medic reunited with family after being separated since the start of lockdown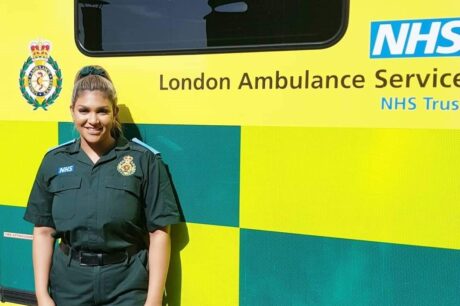 After months of separation, London Ambulance Service medic Hina Pajwani has been reunited with her family just in time to spend their late father's birthday together.
Trainee Emergency Ambulance Crew Hina's mother has a health condition which puts her in a higher coronavirus risk group.
So to protect her mum from the dangers of the virus, Hina lived in a hotel throughout the pandemic whilst working on the frontline.
Each year on 5 August Hina and her mother and sister celebrate the life of their father, who tragically died in 2006 in a road traffic collision.
But this year with coronavirus separating them as a family they were unsure whether they would be able to spend the day together.
Since lockdown began on 23 March, over 160 London Ambulance Service staff moved out of their family homes and into temporary accommodation so they could stay on the frontline helping Londoners while protecting loved ones who may be at additional risk.
As lockdown started to ease, Hina was able to go home and the family were reunited last Tuesday (28 July). Thankfully this coincided with the anniversary of their dad's birthday.
Hina joined the ambulance service less than a year ago. She said: "It has been quite full on year! I never would have expected the start of my career to be working on the frontline battling a global pandemic, but it has been great being able to help out in the fight against this virus."
On the evening they were finally reunited, Hina's mum made her and her sister a home cooked meal and they spent the evening together – something they haven't been able to do in over four months.
Hina said: "It has been so special just being together again and in each other's company – I have of course missed the food!"