Firefighter responding with our crews thanked for restoring memorial bench
A firefighter who has been working on ambulances during the pandemic has been presented with a plaque by his grateful colleagues at London Ambulance Service.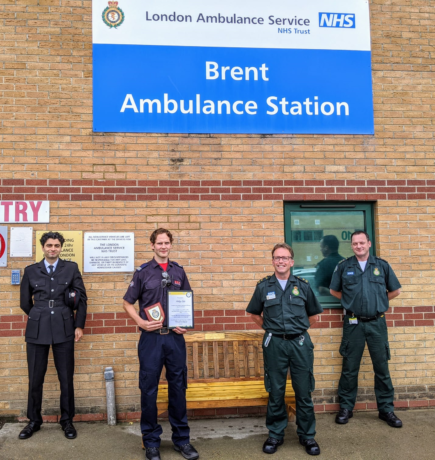 Not only has Station Sub-Officer Nik Zakis been driving ambulances on blue lights and helping his crewmates on scene, but he also painstakingly restored a memorial bench at an ambulance station which is dedicated to a former member of LAS staff.
Nik is one of 300 firefighters to work alongside ambulance crews responding to COVID-19, in a ground-breaking partnership between London Ambulance Service and London Fire Brigade.
As well undertaking crewmate duties with teams based at Brent Ambulance Station, Nik also took it upon himself to restore the much-loved bench.
He replaced the wooden slats, strengthened the bench with steel rods and, finally, added a fresh layer of varnish.
Clinical team manager, Robert Henson, said: "Nik has fitted in so well into the London Ambulance Service family at Brent.
"He's very popular with staff and patients alike. I think deep down he is more green than red. I have put a bulletin advertising vacancies into his pigeon hole!"
As well as the plaque, Nik was also awarded a certificate of appreciation at a socially distanced presentation, earlier this month with Brent Group Manager Lee Williams, Clinical Team Manager Robert Henson, and LFB Station Commander Sami Goldbrom.