Prime Minister thanks London Ambulance Service for "brilliant response" to COVID-19
Prime Minister Boris Johnson has today thanked everyone at London Ambulance Service for the "brilliant response" to COVID-19.
Mr Johnson met call handlers and ambulance crews – as well as teams working behind the scenes – who have been at the forefront of the capital's response to the national emergency.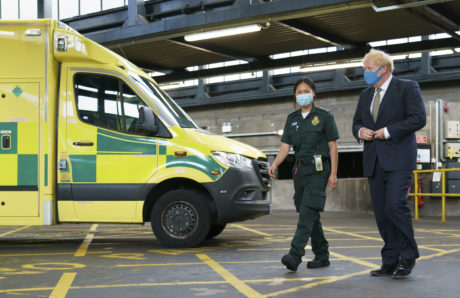 He said: "I was delighted to visit London Ambulance Service this morning to hear how they continue to respond so impressively despite unprecedented demand during the pandemic.
"As the busiest ambulance service in the country, I'd like to thank Heather, Garrett and all the staff and volunteers for their efforts in responding to almost two million calls a year – and especially for protecting Londoners since the virus struck."
The Prime Minister began his tour of the ambulance headquarters in the 999 Emergency Operations Centre. He met student paramedics who had been trained over just one weekend to work in a dedicated COVID-19 call-handling centre which was built in a matter of days.
He was told how the Service quickly acquired 200 extra ambulances to help care for growing numbers of patients; and how the logistics team distributed one million pieces of PPE.
Around 900 volunteers were recruited, including 300 firefighters. One of those firefighters was Tom Binder, who joined his paramedic brother Jack on an ambulance. Both spoke to the PM.
Jack said: "He asked if we worked together and I told him we were brothers – he thought it was brilliant that paramedics and firefighters were working together and he said he was grateful for what we have been doing."
Tom added: "It was good to be thanked. I think because he was sick himself he does realise how hard we have all been working."
The Service has provided temporary accommodation to hundreds of frontline staff who have moved out of their homes to protect shielding family members.
Mr Johnson was introduced to paramedic Sarah Ablewhite, who made the difficult decision to live apart from her 14-year-old son.
Sarah said: "He seemed genuinely shocked that I am not seeing my son. I think he really appreciated the sacrifice people are making – living apart from our children so we can continue to do our job."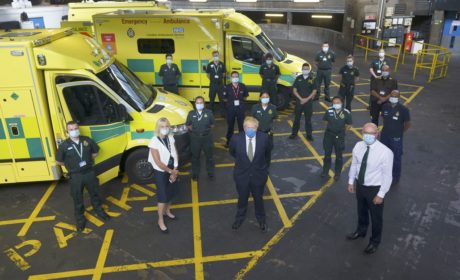 Emergency ambulance crew Hina Pajwani usually lives with her mum, who suffers from serious health conditions, and also helps to care for her. She's been living in a hotel for almost four months.
She said: "He thanked us for all that we have done and continue to do. He was very sympathetic about me not being able to see my mum – and said he hadn't seen his mum either."
Heather Lawrence OBE, Chair of London Ambulance Service, said: "I am so proud of everything that all our staff and volunteers have achieved over the last few months.
"Many have gone to incredible lengths to continue our work to care for Londoners throughout the pandemic, whilst either at risk themselves or by staying away from loved ones at home who need shielding."
During his visit to London Ambulance Service headquarters in Waterloo, the PM announced a consultation has been launched into increasing the maximum sentence for assaults on emergency workers from 12 months to two years.
In the last three months alone, there have been more than 130 physical assaults on our staff. Incidents include being kicked, punched, head-butted and being assaulted with weapons – once with a firearm.
There have been a further 200 reports of verbal abuse and threats.
Chief Executive Garrett Emmerson said: "We welcome the Prime Minister's announcement and hope to have the opportunity to contribute to the consultation. Tougher sentences should act as a deterrent to those intent on abusing our staff, and that will help to protect our ambulance crews and other emergency service workers.
"Our crews have made huge sacrifices and worked long and gruelling shifts to care for Londoners and save as many lives as possible. It is absolutely disgusting that they should be subjected to physical violence, threats and verbal abuse while they are trying to do their job.