The ambulance service staff living away from loved ones to keep them safe
More than 160 London Ambulance Service medics, emergency call handlers, logistical teams and support staff have been separated from their families for more than a month during the coronavirus epidemic.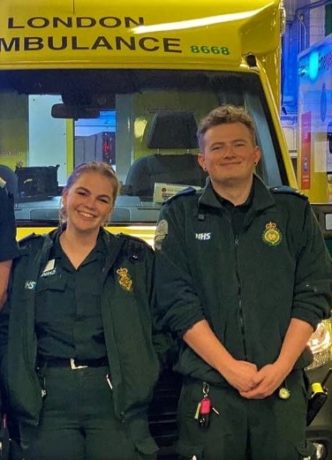 Since lockdown began on 23 March, 162 staff moved out of their family home and into temporary accommodation so they could stay on the frontline helping Londoners while protecting loved ones who may be at additional risk.
Here we share just some of the stories of the sacrifices staff are making to be able to still help Londoners in need during the coronavirus pandemic.
Oli and Lauren
When ambulance crew couple Oli and Lauren decided to move in together, they didn't know their first home would be a hotel.
Oli and Lauren were staying temporarily with Lauren's mother while repairs were carried out to make their first home together habitable.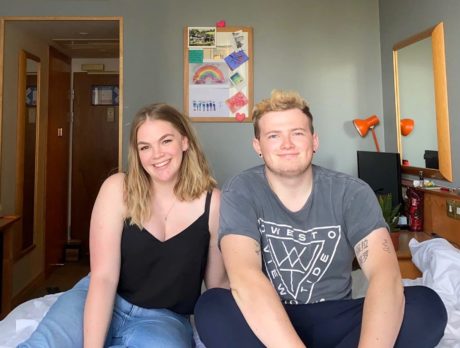 But as the virus started to spread in the capital, they decided to move out to ensure her mum, an asthmatic, was not put at unnecessary risk. The couple decided to move into a hotel room, which they have decorated with mementos to remind them of home.
Often working alternative day and night shifts, the couple, based at Fulham Ambulance Station, have not seen much of each other even in precious down time.
However, despite these personal hardships, the couple are proud of their front line role helping Londoners and describe how colleagues are pulling together.
John 
John, has been working at London Ambulance Service for seven years. He lives with his wife Kate and children Hayden, 15, and Liana, 13, in Aylesford, Kent.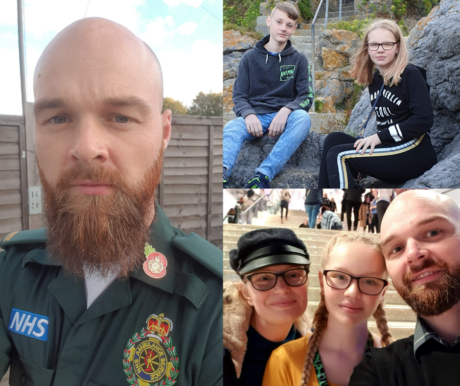 At the end of March, John moved into a hotel to protect his family as Kate is immune suppressed and Liana has congenital heart disease.
John, a paramedic working out of Bromley Ambulance Station, has managed to stay in contact with his family while in the hotel through regular video calls.
Since the recent change in the government's guidelines, he has been able to spend some time – at a safe distance – from the family in the front garden in between shifts.
"We are a close family unit and the main difficulties apart from living away from each other is not being able to give my family a hug and provide them with the physical reassurance we all need."
Tom 
Trainee Emergency Ambulance Crew Tom has spent two months in a hotel, away from his fiancé, to protect a vulnerable person the couple live with.
Tom moved into a hotel as he was worried that he might pass the coronavirus to the couple's elderly landlady who lives in the same Highgate property.
Before moving into the hotel, Tom had just asked his partner Annie to marry him. Annie said yes, but the next day, Tom checked into the hotel.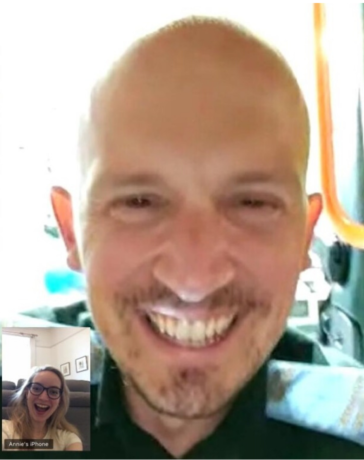 Tom and Annie – who have been together for 10 years – now haven't seen each other for almost two months, as Tom is staying in the hotel between shifts at work.
Tom said: "To reduce the risk to our landlady I moved into the hotel which London Ambulance Service has made available for staff who need it.
"At first it felt like a bit of a holiday with a buffet breakfast every morning, but the novelty factor has worn off!
"It's been a challenge keeping in touch with Annie given the nature of night shifts – video calls have been a godsend – but we try to talk every day!"
Tom, who is based at Westminster Ambulance Station, has worked for London Ambulance Service for 18 months. He and Annie met while both studying at University in Nottingham, Trent.
The couple are planning to tie the knot in 2022 and honeymoon in Japan. But they're mostly looking forward to seeing each other in person again!
Mark
Mark, an Emergency Medical Technician, made a decision to temporarily move out of the family home during the coronavirus response because his wife suffers from a rare form of severe asthma that could make her more vulnerable to complications from Covid-19.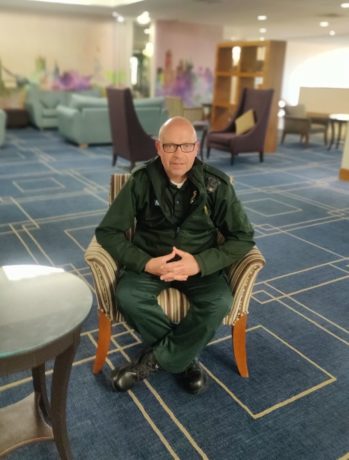 In the two and a half months since Mark moved into a hotel room, he's missed his son's sixth birthday (although he popped back to the garden of their family home to watch through the patio doors while he opened his presents), the moment his son learnt to cycle and the first visit from the tooth fairy.
Mark said his absence from the family home had also been tough on his son, who had been struggling to understand why his dad had been gone for so long.
"We've tried to explain to him about coronavirus and how it affects certain people – he calls it 'the bug' and I think he does understand it quite well," he said.
"He always thinks I'm a superhero, so he basically just says Daddy is away saving people, and he's happy with that!"