Military medics and London Ambulance Service join clap for critical workers following ground-breaking partnership tackling COVID-19
Staff from London Ambulance Service and medical specialists from the armed services joined together for the 'Clap for Our Carers' this evening.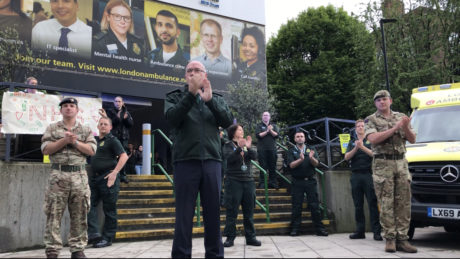 They stood together for the applause on the steps of our HQ in Waterloo as a pioneering partnership between the Service and the military drew to a close.
In recent weeks, serving military medical specialists from all three armed services have supported LAS taking patients between intensive care units (ICUs) to hospitals with more capacity in the capital, including the new NHS Nightingale London Hospital at the ExCel.
Garrett Emmerson, Chief Executive of London Ambulance Service, said:
"During this unprecedented global health emergency, which has placed London Ambulance Service and the wider NHS under extreme pressure, we have had excellent support from many quarters to scale up our response against COVID-19.
"I am incredibly grateful to serving members of our military who have gone above and beyond in recent weeks to help London Ambulance Service transfer critically ill patients to hospitals where they can get the care they need. Their support has been instrumental in saving lives across London."
Lieutenant Colonel Harvey Pynn, the team's clinical lead, said:
"We are proud to be able to support the NHS at this critical time. Our team are all regular serving medical professionals from across the armed forces. We are pleased to be able to assist the NHS who are doing such a fantastic job under the greatest of pressure.
"Moving critically unwell patients is a challenging task. By rapidly mobilising these critical care teams we have eased the burden on some of the hospitals in London and delivering the right group patients to new facilities at NHS Nightingale."
This evening, London Ambulance Service also paid tribute to fundraiser Captain Tom Moore on the occasion of his 100th birthday and the achievement of raising more than £30m for National Health Service charities by walking laps of his garden.
Thanking Captain Moore for his support for the NHS, Mr Emmerson added:
"His achievement is inspirational and on behalf of London Ambulance Service I would like to wish him many happy returns on his 100th birthday."
During the pandemic, London Ambulance Service has entered a number of new partnerships with public and private sector organisations from the AA to London Fire Brigade to help support its operations at this exceptionally busy time.
The military personnel, who specialise in emergency medicine and anaesthetics, were monitoring patients as they made the journey between different hospitals. Based out of a temporary ambulance station next to the ExCeL, the team assisted the Service for two weeks as part of the military's wider support for civilian authorities as they battle against COVID-19.