Mobile mental health unit expands London-wide to help improve care for patients
A pioneering scheme that pairs up mental health professionals with medics in response cars to ensure those with mental health needs get the right treatment is helping ease pressure on the NHS this winter.
For 12 weeks, five cars staffed by mental health nurses from NHS trusts around the capital and paramedics from London Ambulance Service will treat the physical and mental health needs of patients together.
The emphasis will be on linking mental health patients with the most appropriate treatment, including referrals to specialist care, and only taking them to A&E where this is necessary, ie because of an accompanying physical condition.
The fleet is an expansion of a mental health car service launched in south-east London in November 2018 and will help alleviate pressure traditionally faced by the NHS in the final winter months.
The original service is estimated to have helped around 2,000 people suffering with mental health issues in the past year, with initial findings suggesting that the scheme could halve the 60,000 annual mental health hospital admissions each year.
The South East London pilot saw the proportion of patients taken to A&E more than halved from around 52 per cent to 18 per cent as more patients were treated effectively in their own homes or received other appropriate care.
Dr Trisha Bain, chief quality officer at London Ambulance Service, who has responsibility for mental health services, said: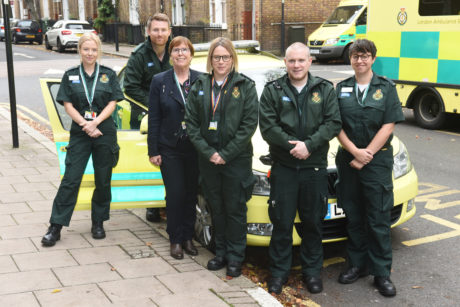 "A&E is not always the right place for someone experiencing a mental health crisis, and can even be stressful or traumatising.
"This pioneering service is helping to ensure we provide the right and best possible care for people with mental health issues and is one of a number of ways we are safely reducing the number of people taken to hospital unnecessarily.
"Winter is traditionally a busy time for the National Health Service and this boost to our successful service will help us further refine how we deliver these services in London."
Martin Machray, Interim Chief Nurse for the NHS in London, said:
"Patients experiencing health crises often need the support and knowledge of a mental health professional as well as a paramedic.
"By treating both their physical and mental health needs, we can provide a better and more rounded care approach – and I am proud that London is leading the way with this wonderful project."
The roll out is a significant boost to current staffing with 15 new nurses from nine mental health trusts in London and 15 London Ambulance Service paramedics delivering the service until the end of April.
Matthew Trainer, Chief Executive at Oxleas NHS Foundation Trust which is one of the mental health trusts providing nurses for the project, said:
"There aren't many cases where someone with a mental health problem will benefit from being taken to a busy A&E by ambulance. We want to get the right care to people in the right place as quickly as we can. The mental health cars are helping us do that."
It has been made possible by winter resilience funding of £350,000 from NHS London to secure the additional nurses while London Ambulance Service has provided the vehicles and additional paramedics.
The lessons of this winter's temporary pan-London roll-out will be used to inform and plan the future of this Service.
Find out more about our mental health care here.