"Centenarian's cake celebration" – ambulance crew celebrates WWII veteran's 105th birthday
An ambulance crew who took a World War II veteran into hospital last month reunited with the patient to celebrate his 105th birthday at his hospital bedside.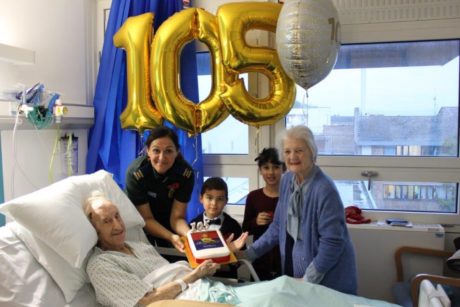 New Malden-based Emergency Medical Technician Sameenah Din and her crew mate attended the home of George Worwood in Surbiton earlier in October and took him to Kingston Hospital for further treatment and tests.
Upon hearing that George was likely to spend his 105th birthday (28 October) in hospital, Sameenah arranged to bring George a cake and balloons to celebrate with him on his birthday. She visited George alongside George's nephew Nigel and Nigel's wife Carol – and also bought along her two children Somayya and Zachariyya to meet George.
Sameenah, who has worked at London Ambulance Service for 18 years, learned while treating George that he was a former member of the armed forces – the Royal Artillery regiment – so she had the cake decorated with the Royal Artillery flag and emblem – and poppies – to mark Armistice Day and Remembrance Sunday.
George told Sameenah that he had never been to the Cenotaph on Remembrance Sunday, so Sameenah worked with the London Ambulance Service non-emergency transport service (NETS) and the armed forces charity SSAFA to arrange for George to be taken by a London Ambulance Service NETS team to the annual Remembrance commemoration at the Cenotaph.
Unfortunately George's condition meant he was unable to attend – but Sameenah made sure she could visit George at 11am on 11 November for the two minutes' silence to remember fallen armed forces personnel.
Carol Worwood, George's niece-in-law said: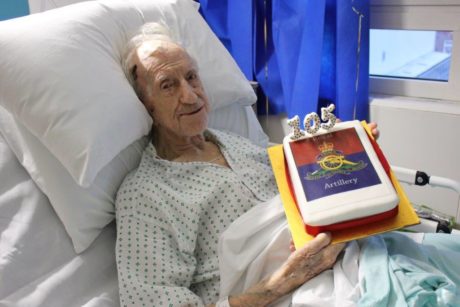 "My husband (George's nephew) and I arrived at the hospital to see George on his birthday – with a balloon, cake and champagne, but before we could go in we saw Sameenah, in uniform, with an amazing cake with the Royal Artillery emblem on it.
"I left my, very ordinary, chocolate cake in my bag!
"We watch television programmes about the ambulance service and never cease to be amazed at their care. I can't begin to tell you the difference having Sameenah pop in has made.
"George was quite amazed at all the attention!"
Sameenah added:
"Meeting a 104 year old patient is an honour in itself but to then learn that George is one of the oldest surviving WW11 veterans was incredibly humbling.
"It was really special to be with him on his 105th birthday and it was lovely to be welcomed to be part of his special day so warmly by George's nephew Nigel and Nigel's wife Carol.
"Joining George for the two minutes' silence on 11 November was poignant and I'm grateful to have been able to spend it with him – it really brought home the magnitude of the occasion."