We recognise more than 2,500 years of service to the NHS at Celebration of Service event
Long-serving members of London Ambulance Service staff swapped stories and took a trip down memory lane at the Service's biggest ever 'Celebration of Service' at Gibson Hall in central London yesterday afternoon (Wednesday).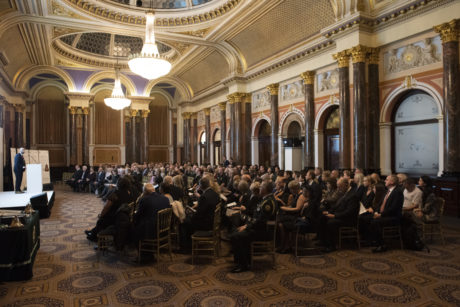 A record 104 members of staff from operational and corporate roles were honoured for a combined 2,550 years helping to care for people in the capital and for their service to the NHS.
Allan Bromley, who joined in 1975, received a standing ovation as he received his gong for 44 years of service. He was one of 31 people who received gifts to mark their retirement.
Many more received long-service awards for serving between 20 and 40 years in the Service.
Married medics Donna and Matt Williams were presented with the Queen's Long Service and Good Conduct medal to honour 20 years of dedicated service to London and the NHS.
The pair met each other on their first day at the Service in August 1999. Both now work in roles training and supporting new medics, but the pair spent many years on the front line after qualifying as paramedics in 2003.
Memorable moments of their careers include responding to the Paddington Rail crash shortly after they joined the Service and supporting the response in the aftermath of the 7/7 attacks on London in 2005.
While never formally 'crewed up', on rare occasions they did a shift working in an ambulance together.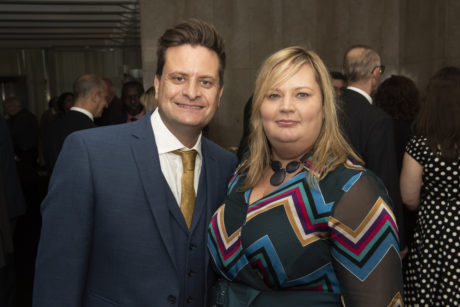 Matt, 46, has seen the nature of the work change radically over the two decades:
"The volume of calls has increased dramatically and the kit and equipment available now means we can give much better help to patients."
Matt and Donna, who have two children, have no plans to leave the London Ambulance Service.
Donna, 41, said:
"It's a very special place to work. A few years ago we had a family emergency and everyone rallied round. There is always great support."
The event also provided an opportunity for people to mingle with friends and old colleagues. Emergency Medical Technician Samuel Nsubuga and Resource co-ordinator Sarah Young spoke fondly of their time working at the Service.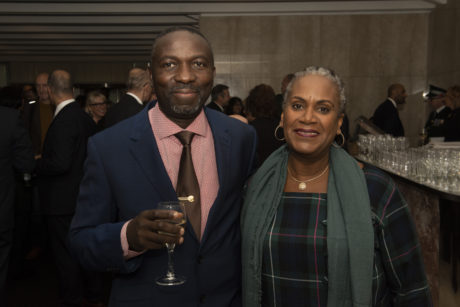 Samuel says the best thing about working here is making a difference:
"You get to help people who are in trouble. You can make a huge difference to someone's life."
Sarah, fondly recalls her time at the Service:
"The people really made it a great place to work. It was special."
For the first time, the event included newly qualified paramedics who have just come through the London Ambulance Service Academy. Six of them received a scroll with a green ribbon.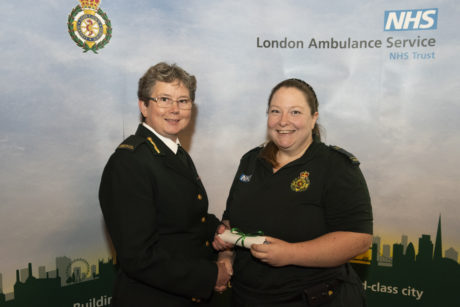 One recipient Helen Chiverton, 32, was excited about her new role.
She left Surry police as a 999 call handler as she felt being a medic would allow her to give more help to people.
She said:
"I am really looking forward to practising my new skills and knowledge to give even better care to patients."