Biggest ever celebration of London Ambulance Service staff
More than 2,500 years of service was celebrated by London Ambulance Service staff in the City of London today (Wednesday 13 November).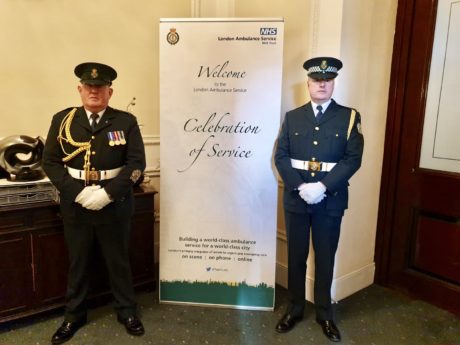 A record 104 members of staff from operational and corporate roles were honoured for a combined 2,550 years helping to care for people in the capital at the 'Celebration of Service' event at Gibson Hall, EC2.
Among them 31 people who are retiring received gifts to mark their dedicated service to the London Ambulance Service and the NHS. For the first time the event celebrated staff who had newly qualified as paramedics through the Service's academy, or completed postgraduate qualifications relevant to their work.
London Ambulance Service Chairman Heather Lawrence OBE, who presented some of the awards, said:
"All of our staff – from medics and call handlers to those maintaining our vehicles or working in HR – play a part in saving lives and I am extremely proud of their achievements.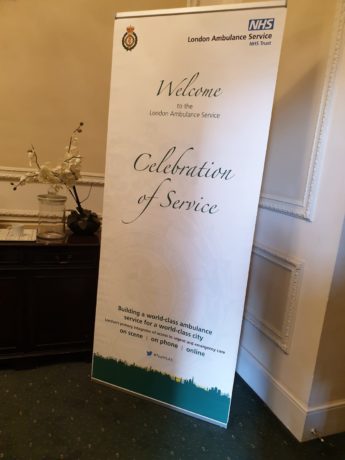 "Today we are celebrating colleagues who have provided years of dedicated service to London, the London Ambulance Service, and the NHS, as well as welcoming some of the new generation of paramedics who are the future of our Service."
Among those who are retiring, 17 were given 'The Bell'. These replicas of the bell found on ambulances before electronic sirens were introduced are presented to staff with more than 25 years of service. Clinical Education tutor Allan Bromley is retiring after an impressive 44 years of service having joined in 1975.
Husband and wife Donna and Matthew Williams received The Queen's Ambulance Service (emergency duties) Long Service and Good Conduct Medal for 20 years of service from Chief Executive Garrett Emmerson. Both now play a role in training and supporting new medics, but the award is given for 20 years' service of which at least seven have to have been on the front line.
Meanwhile, six newly qualified paramedics were recognised with a scroll with a green ribbon and two staff were honoured with a scroll with a yellow ribbon for completing postgraduate courses funded by the London Ambulance Service bursary scheme.
---
Long Service Awards

| Length of Service | Award | Number of recipients |
| --- | --- | --- |
| 20 Years | The Queen's Long Service and Good Conduct Medal or London Ambulance Service Medallion. | 51 |
| 30 Years | Framed certificate | 20 |
| 35 Years | Framed certificate | 4 |
| 40 Years | Framed certificate | 4 |
Retirement Awards

| Length of Service | Award | Number of recipients |
| --- | --- | --- |
| 10 to 25 years | Engraved glass block | 14 |
| 25+ years | The Bell | 17 |
Awards for professional qualifications

| Qualification | Award | Number of recipients |
| --- | --- | --- |
| Paramedic | Scroll with green ribbon | 6 |
| Postgraduate certificate | Scroll with yellow ribbon | 1 |
| Hazardous environment medicine | Scroll with yellow ribbon | 1 |
NB: Some attendees received more than one award