Safety warning as fireworks are aimed at our ambulance crews
On Saturday night (2 November) a firework was aimed at one of our ambulance crews who were driving on blue lights and sirens to an emergency in Finsbury Park.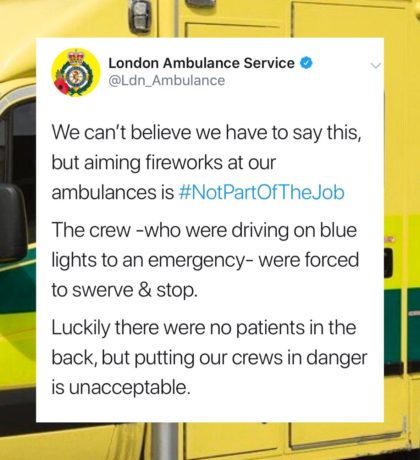 The firework exploded near the windshield of the ambulance forcing the crew to swerve and perform an emergency stop. Luckily the crew weren't treating a patient in the back of the ambulance, but the incident could have delayed or stopped them getting to a patient who needed them, or even have harmed them.
The paramedic who was driving the ambulance said: "This was a close call for me and my crewmates as a firework was aimed towards our ambulance and exploded as I drove on blue lights and sirens to an incident.
"Behaviour like this causes accidents and endangers people's lives — ours included."
We are delighted that our crew are okay and thankful that no patients were harmed, but abuse towards our staff or putting them in danger is unacceptable and not part of the job.