Gym lifesaver and survivor join lifesaving skills training session
A gym-goer and the man he saved have been reunited at a lifesaving skills teaching session at the gym where the collapse happened.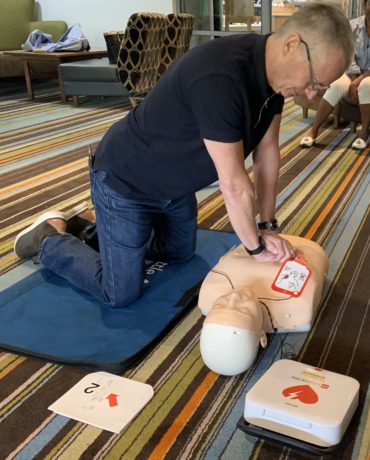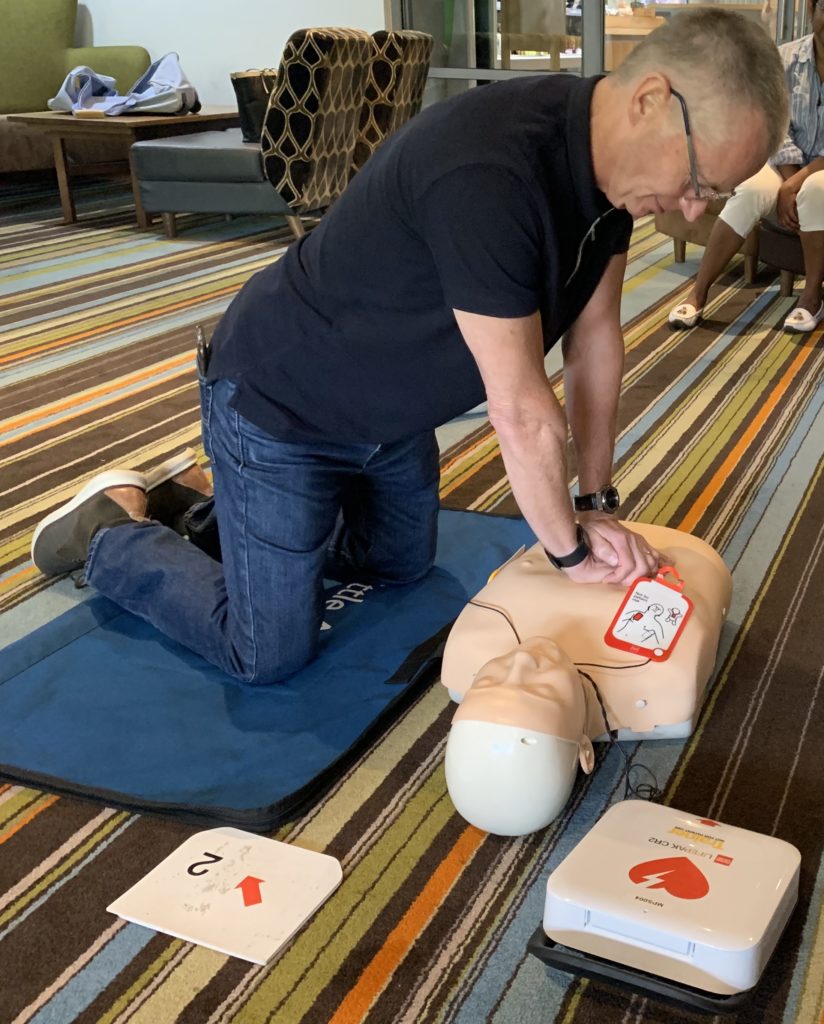 Stuart Anderson, 62, was at the David Lloyd gym in Beckenham, south London in April this year when a man on the treadmill next to him collapsed in cardiac arrest.
Stuart immediately sprang into action and started CPR on the man, Mark.
He was joined quickly by members of the gym team who used a defibrillator in between chest compressions. Mark survived the cardiac arrest and the London Ambulance Service crews who arrived shortly after credited Stuart with saving his life.
Stuart had in 2013 received training in emergency life support skills from the London Ambulance Service – skills he says stood him in good stead to intervene quickly and expertly when Mark collapsed.
Mark and Stuart met again at the same David Lloyd gym after Stuart organised with the ambulance service for members of the gym to receive the Service's lifesaving Teach the Beat: Restart a Heart training – from the same trainer who originally taught Stuart.
Stuart said:
"It was humbling to meet Mark again and very emotional. It is also fantastic to see more people receiving this vital training.
"What happened with Mark and me is evidence that this training saves lives. When Mark collapsed I could hear the mantra of the person who trained me – "don't think, act" – in my head and because of this I could give Mark the vital first aid he needed which helped save his life.
"The Teach the Beat training LAS offer can be done by anyone – as CPR and using a defibrillator can be done by anyone. You just need the confidence to step in like I did!"
Mark added:
"I'm living, breathing proof that lives can be saved by people learning these simple skills and having the confidence to aid a person in cardiac arrest.
"Those who had the training can also pass the skills onto others. If one good thing can come out of what happened to me it's that it was the catalyst for others to be offered training that I'm sure will save a life if they find themselves in a situation like Stuart did."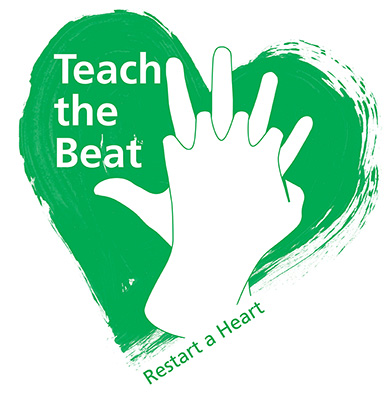 Chris Hartley Sharpe, Head of First Responders at London Ambulance Service said:
"We want everyone to be confident – like Stuart was – that they could perform basic lifesaving skills on someone in cardiac arrest.
"Our Teach the Beat: Restart a Heart is training people in skills to save lives themselves but also how to teach them to others at work or community group – so as many people as possible have the confidence to help someone in cardiac arrest."
Gym members received the London Ambulance Service's 'Teach the Beat: Restart a Heart' training – and heard first-hand from Stuart and Mark about exactly why learning these skills is so important.
Teach the Beat training includes how to do chest compressions and use a defibrillator – but also how to pass these skills on– so as many people as possible have learnt how to save a life.
Cardiac arrest is when the heart stops pumping blood round the body. Every second counts and it is vital the patient receives immediate life-saving attention in the form of chest compressions and early defibrillation.
London Ambulance Service typically reaches patients in cardiac arrest in seven minutes but early intervention will give the person the best chance of life. Two thirds of people in cardiac arrest in London were given CPR by a passer-by or a relative last year.