Wife of Australian Prime Minister meets Australian paramedics working at London Ambulance Service
Jennifer Morrison was welcomed to the Service's headquarters in Waterloo by Chief Executive Garrett Emmerson and met Australian paramedics working in London.
She was also shown around the Emergency Operations Centre, where emergency calls are answered, ambulances and other vehicles dispatched and where patients are given medical advice and support by clinicians over the phone.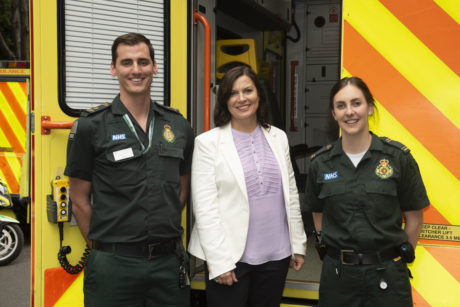 Mrs Morrison, who was previously a registered nurse, also met two Australian paramedics working for the Service, paramedic Emily Brown and Luke Vacca, a Clinical Team Manager paramedic.
Around a quarter of our paramedics are Australian.
The Service first began a recruitment campaign to attract Australian paramedics in 2014. At the time a national shortage of paramedics in the UK meant that the Service looked to Australia because the skills and training closely match those in the UK.
150 more paramedics from Australia and New Zealand are to join the Service in 2019.
Of her visit, Mrs Morrison – whose brother-in-law is also a paramedic – said:
"It was a real privilege to meet these Australian paramedics who are providing such an important service in London. It was fascinating to visit London Ambulance Service and hear about their work – both on scene and also on the phone from their control rooms.
"I know many medics who have come to the UK to work and it was great to be able to meet Emily and Luke and to hear first-hand their experiences and learn more about the role of paramedics in London."
London Ambulance Service Chief Executive Garrett Emmerson said: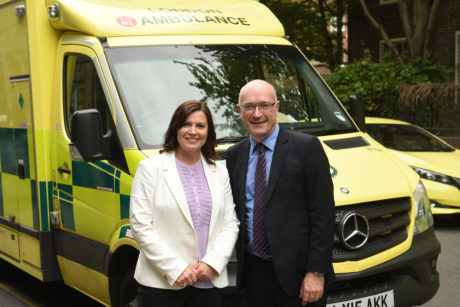 "It was an honour to welcome Mrs Morrison to our headquarters to learn about the work we do and to meet some of our Australian paramedics.
"The Australians in our team are a real asset to the Service and to the people of London.
"We're looking forward to welcoming more Australian medics to our team this year to respond to those in need in the capital."